Welcome to the latest edition of Friday in the Sun, our weekly column that attempts to catch up with and break down the political news of the week, and, hoo boy, the last 24 hours have already made for plenty of news. As always, take everything in here with a grain of salt because, after all, acting like you know what you're talking about with Alaska politics is a time-honored tradition in Alaska, second only to bemoaning the loss of the good ol' days when "Alaska wasn't like this."
You can get ahold of your dear ol' editor at [email protected] with tips, tricks and grammatical advice.
Also, hey, if you're a subscriber to the The Midnight Sun Memo (and, if not, why?!? It's so easy to sign up!) you may have noticed the increasing overlap between this column and the newsletter. Here's a handy way to jump past the reheated newsletter to the new and/or fleshed out stuff for anyone who's already done the reading: Too long; already read.
Actions meet consequences
Following what was perhaps the grimmest night in the Anchorage Assembly's drawn-out hearing on the proposed mask mandate—a night that featured parents forcing their children to read pre-written letters into public testimony, some not-great sing-alongs and some truly petulant actions by the Bronson administration—the Bronson administration announced that two members have tested positive for covid-19: Municipal manager Amy "I don't run the city. Amy Demboski runs the city" Demboski and municipal attorney Patrick Bergt (both are vaccinated and experiencing symptoms, per the ADN). While Bergt was one of the few to wear a mask during the last two weeks of assembly meetings, Demboski did not and was photographed frequently standing in close contact with other members of the administration as well as members of the Anchorage Assembly, including when the administration childishly ordered the removal of plexiglass screens from the chambers.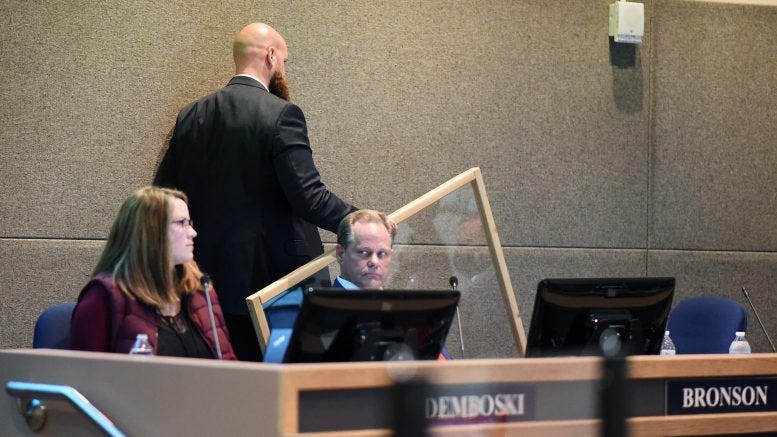 Of course, Demboski had also been looming around the Anchorage Assembly over several days so the entirety of the Anchorage Assembly that had been present (several have been participating via telephone out of concern for their personal safety) would fall under close contacts. Most of the assembly is vaccinated and leadership opted to cancel today's continued hearing on the mask mandate in following CDC guidelines (which has raised plenty of speculation that that was precisely the play by the Bronson administration, which has grasped at any tool available to slow the process).
What it all means at this point isn't entirely clear.
Practically speaking, the Anchorage Assembly canceled today's hearing and is exploring the potential to postpone the start of next week's regular hearing, which is notable insofar as it's the hearing where the assembly would be asked to approve a new contract or additional funding for testing (oh, right, because the administration is cutting back on testing hours and telling people not to get tested due to an apparent budget shortfall).
In the bigger sense, just how the covid-19 cases in the administration and, potentially, among the Anchorage Assembly will put a fine underline on the merits of the masking mandate just as they finally might be maybe approaching a debate and vote on the measure.
Loyalty pledge firings
It's been what feels like a lifetime since Gov. Mike Dunleavy took office with a wave of firings of state employees who refused to sign pledges to his political agenda. Today, a federal judge ruled that not only did the two violate the First Amendment rights of the employees but that they could also be held personally liable for their actions. Judge John Sedwick ruled today that the loyalty pledges that the governor required of all at-will employees—which reached well beyond the normal bounds of political appointments to lawyers, pharmacists and, in this lawsuit, Alaska Psychiatric Institute doctors—amounted to an unconstitutional infringement on First Amendment rights by essentially requiring these employees to sign in support of a political agenda as part of their conditions of employment.
"This warning would be expected to chill employees' political affiliations and activities that officials would consider subversive to the administration's agenda," he wrote.
What's also critically important about this case is that it also strips away Dunleavy and Babcock's qualified immunity, meaning they could be held personally and financially liable for the consequences of their actions.
It's also good news for former state attorney Libby Bakalar, who's also pursuing her own lawsuit against the administration over her own firing. She weighed in on the ruling on Twitter this afternoon, writing that:
"It is highly unusual for a court to strip government defendants of qualified immunity. It means that their actions were so egregious, that they do not deserve the protections of their jobs for having acted reasonably and professionally. There are some factual distinctions between my case & this, but the fundamental issues—the unconstitutionality of the patronage scheme, the egregious conduct of the defendants sufficient to strip them of qualified immunity in their treatment of the workforce—are common to both."
$270
That's how much former Department of Administration Commissioner Kelly "Close the DMVs" Tshibaka has been cited for fishing without a commercial crew license. The charges stem from her particularly tone-deaf "fish camp" campaign ad where she attempted to establish her Alaska bona fides by fishing in a way that looked to pretty much everyone who's been fishing a lot more like commercial fishing than the quaint, romantic image of hardy Alaskan self-reliance that she was shooting for.
It's a headache that's likely to dog extreme-right conservative throughout the race because, after all, there are few things more damning in Alaska politics than fish and game violations. The Trump-endorsed Tshibaka hopes to unseat Alaska U.S. Sen. Lisa Murkowski next year, which will come with the added challenge of the open primary and ranked-choice general election… which, for the record, Tshibaka had hoped to overturn with the Trump Big Lie.
"On their own"
Speaking of the U.S. Senate, they have for now avoided global financial crisis with the passage of a measure to extend the debt ceiling into early December following a bit of childish political bickering and gamesmanship that would make even the Alaska House Minority Republicans—who nearly shutdown the Alaska government in order to secure… a working group—blush. Even Alaska U.S. Sen. Lisa Murkowski watched from the sidelines (well, she did vote for cloture on the bill so at least there's that), which at least provided this rather illustrative exchange with Alaska Public Media's Liz Ruskin:
"I would like to be able to figure out a way that the Democrats could move forward, deal with this on their own, as they've indicated they're prepared to do," she said.

Why does it have to be Democrats "on their own"? 

"It's a fair question," Murkowski said. "It doesn't have to be." 

She paused for several seconds. Then one of her aides said she needed to have a private conversation with the senator. 
What's it all mean? ¯\_(ツ)_/¯
$39 million
That's the apparent economic cost of what the pandemic is doing—and continuing to do—to Anchorage's economy through meeting and event cancellation, according to a really interesting report from the Anchorage Daily News. Venues and event organizers have continued to see a string of cancellations as the city's hands-off approach to the pandemic has fed a no-end-in-sight surge that has strained hospitals and produced an unending wave of bad national press. It's almost like the economists were onto something when they were warning that protecting public health and protecting the economy were not—as Bronson, Dunleavy and their allies have argued—mutually exclusive. Turns out that it's pretty hard to get people to hold big-ticket events and other gatherings when there's more than enough covid-19 to go around but not enough beds or monoclonal antibodies to go around.
"I realized, 'Yeah, this is not safe,'" Kara Moriarty, the president of the Alaska Oil and Gas Association, told the paper about the group's postponement of its annual meeting. "We are ready to meet in-person, but not until it's safe."
Polling out in the field
And as I was writing up this column, I got a call from a pollster asking about the Anchorage political scene. I'll spare you on the details of the poll but the funny interesting takeaway was when they asked about the approval rating of Anchorage Mayor Dave Bronson, who just crossed the 100-day mark in his tenure. If you've been reading my reporting, you don't have to guess where I would've ranked him. The pollster's response?
"That's what everyone's saying."
Speed-running the mayor's office, any%
I made the joke a while ago, but it still stands. It sure looks like Mayor Dave Bronson is on pace to set a speedrunning record for holding the Anchorage mayor's office. Whether it's the less-than-ethical business dealings, mucking around with the special elections or whatever comes to pass with the proposed mask mandate, he's given his opponents plenty to work with in the post-Recall Dunleavy world where the mere appearance of breaking the law is enough to get a recall off the ground.
Add to the list his latest definitely not legal move of firing Chief Equity Officer Clifford Armstrong III, who had been on the job since early April. There's no word on why he was fired and no cause offered to the Anchorage Assembly, which turns out to be a pretty big deal because the municipal code literally says that you need cause and the approval of the Anchorage Assembly to give him the boot:
The chief equity officer may be dismissed by the mayor only for cause shown, and only with the concurrence of a majority of the assembly.

Anchorage Municipal Code 3.20.140
And obligatory: Don't put all your eggs in the recall basket. After all, even under the best of circumstances when an elected official seems to be serving up every reason for recall on a silver platter it's still a long shot that can be derailed by any number of unforeseen events. It's going to more important than ever for the opponents of Bronson to defend the majority on the Anchorage Assembly, which he's already eyeing.
The special session and an unfunded proposal
The special session is a complete blackhole of uncertainty, exhaustion and political opportunism that has largely come to define the Legislature in the last few years. This week saw a smattering of legislators trudge back to Juneau for a largely pointless day. The House passed a resolution that'd allow the Legislature to formally take a break from Juneau in order to hold hearings on the road system after a lengthy debate only for the Senate, which was at 11 members, to just… not take it up.
That required a bare minimum of legislators to make the trek back to Juneau on Friday for even more pointless technical sessions.
Word is that going into the day on Monday, both chambers had corralled the votes for to approve the resolution, but political opportunist Sen. Mia Costello, R-Anchorage, got cold feet and, instead, decided to sign onto a letter with the brain trust of Sens. Shelley Hughes, Lora Reinbold, Rob Meyers (who we would presume is North Pole Republican Sen. Robb Myers, but you never really know), Roger Holland and Mike Shower. The letter (at the bottom of this section) mirrors a lot of the arm-chairing we've seen from the Republican House minority, which has basically boiled down to "It's so easy to pass a fiscal plan, so let's do it right now without any hearings!"
The letter demands that, surprise, the Legislature pay out a bigger PFD among several other Dunleavy-favored measures like a constitutional spending limit and a constitutional guarantee on PFDs.
Notably, the letter leaves out any mention of new revenue, which, guys, is kind of the whole sticking point with the entirety of the fiscal plan! If the state's budget could be all things to all people without new revenue, don't ya think it would already be done? It's yet another unserious proposal that we've come to expect out of the Dunleavy corner, and one that I'd imagine a certain Senate Finance Co-Chair wouldn't mince words over. Also, we're still waiting for that fiscal model from the state and where's the governor's gambling proposal he claimed would fix everything?
(Also, it sounds like when the Legislature does come back for its regular session next week that there will be a load of new revenue proposals and other fiscal plan legislation to be introduced, so at least someone's willing to do the work.)
Anyways, the subtext of the letter is really what's more material here.
It's naked attempt by the six to flex their will over Senate President Peter Micciche, whose let's-all-get-along approach is getting stretched pretty thin as his caucus frays in two. It should be viewed in context of all the chatter about possible reorganizations in the Legislature that seem to be operating under the thinking that if the extreme-right Republicans were in power with some far-left Democrats then everything would be SO EASY.
Look, I get the frustration with entire legislative process. After covering it for a decade, this is easily one of the most broken Legislatures that I've seen in a long time. I just don't think handing the reins over to the extreme-right Republicans, who've quite literally made obstructing the process and ensuring the dysfunction, is the breakthrough that some think it might be. Also, it's hard to overlook just what kind of shenanigans we would be subject to with them taking over every committee in the Legislature.
After all, it's not just about bigger PFDs for them but about anti-abortion measures, anti-trans legislation, whatever attacks on the judiciary that they can dream up and whatever else.
Fairbanks elections
If you need any reason to get overly optimistic about elections, take a look at the results of this week's local elections in the Fairbanks area. Conservatives had been on a roll in recent years, putting an end to nearly half a decade of progressive sweeps on the board. This week, voters sent extreme-right candidates packing in a sharp rebuke to the increasingly fringe-y and divisiveness of the far right.
Observers I've talked to chalk up the shift to a combination of forces coming together at the right time, which is probably reason to be skeptical that it'll be an easily repeatable formula for elections everywhere else or that everyone can go back to ignoring local politics:
The moderate and progressive slate of candidates were more coordinated and better funded than in recent years. It also didn't hurt to be putting known quantities of well-liked folks like former Rep. David Guttenberg and Kristan Kelly on the slate. Savannah Fletcher came out of the planning commission there and is very impressive.
Conservatives put up one of their most putrid slates to date with names like Lance Roberts, who got in a high-profile fight with a local co-op for carrying Ms. Magazine (an event that led to Gloria Steinem visiting Fairbanks in 2015 to directly make fun of Roberts), and QAnon aficionado Patricia Silva. While Silva would typically have benefitted from the reflexive support of conservative boosters, the more that the the local paper and Fairbanks columnist Dermot Cole looked into her activities, the harder it was for them to support her in good conscience.
That souring on the conservatives is, to me, a critical difference maker in this election. Those boosters withdrew their support, sometimes in pretty public ways by the sound of it, and it sounds like there was a not insignificant amount of people who voted mostly in service of voting against Roberts and Silva.
The display at the Anchorage Assembly, a super-spreader event of hate, covid-19 disinformation and antisemitism, also didn't help the conservative cause. The angry disruptions at public meetings have been a thing in Fairbanks (there's a reason none of the incumbents wanted to run again) but not nearly to the extent that they've been for the Anchorage Assembly. It sounded like a galvanizing moment for the progressive and moderate voters, while driving a further distancing from conservative boosters and the slate of candidates.
The style of campaigning between the moderate/progressives and and the conservatives was also quite stark. While Roberts and Silva seemed to double down on the divisiveness and conspiracy theories leading up to election day, the moderates and progressives largely stuck to the issues at hand like economic development, internet access and recycling. For a lot of people, I think, one seemed
That's all to say, there's also a bit of good timing at play here. As one observer noted, "It was a matter of who was mad about what and when."'
Wiser words have never been spoken.
With that, have a nice weekend and stay mad!