Adapted from The Midnight Sun Memo, a newsletter project from your humble Midnight Sun editor. For everyone who's been asking about keeping up via email or how to support the work we've been doing here, we finally have an answer in this nifty newsletter. Sign up now!
The four-candidate slate—Republicans Sarah Palin and Nick Begich, Democrat Mary Peltola and independent Al Gross—is set to head to the ranked-choice special election on Aug. 16, but before we dive into early wild speculation about the race, we need to talk about the number of rejected ballots in the state's first by-mail election.
State of the rejected ballots
With 155,326 mail ballots returned to the state, as of the ballot statistics released Wednesday afternoon, the state has rejected 6,205 ballots from being counted.
The reasons for these rejections vary, but some of the most common reasons are because the ballots lacked a witness signature, identifier, voter signature or a postmark by election day. The state doesn't use a signature verification system like Anchorage does, so that wouldn't be the case here (nor would the implementation of Ballot Measure 2's election reforms be at play) but there also isn't a system for voters to fix problems—a process known as "curing"—like Anchorage has. The state plans to notify voters by mailed letter 10 days after the election is certified.
In raw numbers, it's by far the highest number of rejected ballots in any election covered in the statistics published by the state—which go back to the 2016 primary election—and that would make sense given it's also the state's first by-mail election. Over the past six elections covered by those statistics, Alaskans have returned 201,848 mail ballots—technically referred to as absentee by-mail voting—and the state has rejected 3,569 mail ballots over that time period.
But there's also a lot of different ways to judge the rejection rate. In terms of percentages, the rejection rate over those past six elections averages out to 3.64% of all mail ballots being rejected. This year's election currently stands at 3.99%.
As far as this special election is concerned, though, the critical takeaway is the rejection rates varied wildly depending on what part of the state they were coming from. The four rural Alaska districts—spanning from the Bristol Bay/Aleutians district to the North Slope district—all had rejection percentages that crossed the 10% mark with 1,028 rejections out of the 7,511 ballots that have been returned so far.
The Bethel/Lower Kuskokwim's House District 38 stands out with a rejection rate of 16.91% or 359 ballots rejected of 2,123 that have been returned. Rates are similarly high throughout Anchorage, too, with the Mountain View House District 19 reporting an 8.92% rejection rate with 174 rejections out of the 1,951 ballots that have been returned.
While we won't have a good look at just why these ballots were rejected until after the certification of the vote, what stands out to me is that these districts are all have higher concentrations of non-English speaking voters than compared to the rest of Alaska. Between the increasing use of by-mail voting and the shifting requirements to ensure your votes count (more on that below), I would wonder if the messaging about ballot requirements is breaking through the same way it has in other districts.
A look back at a drop in the bucket
To understand these rejection rates better, I spent the last couple days looking through the ballot statistics of the previous six elections: The general and primary elections from 2020, 2018 and 2016. You can find my work here on Google Sheets, with the various things broken down into the sheets accessible at the bottom of the page.
If you're looking solely at the rejection rate, then this year isn't exactly an anomaly. The 2016 primary, for example, saw 5.67% of all mail ballots rejected. There have been several instances where the percentage of rejected ballots for a House district have crossed the 10% threshold with a couple that broke 25%. House District 38—the Bethel/Lower Kuskokwim district with the highest rejection rate in this election—had a rejection rate of 35.29% in the 2016 primary election.
While there have been higher rejection rates in the past, it's important to keep in mind that mail voting was not widely used in those elections. When we talk about a 35.29% rejection rate for House District 38 in the 2016 primary, we're talking about a year where 6 of 17 absentee by-mail ballots were rejected. That statewide rejection rate of 5.67% in the 2016 primary elections is based off 315 ballots of the 5,560 cast being rejected.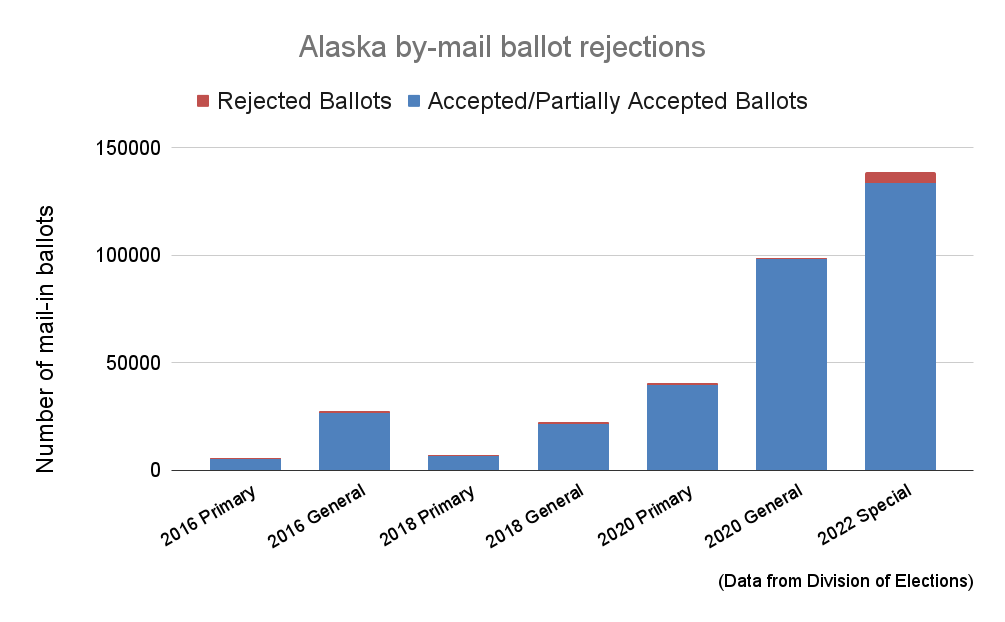 Sidenote: These extremely low numbers make me hesitate from drawing too many conclusions as some could be outliers rather than indicative of a long-running trend. Still, examining these different districts, it appears there's certainly a trend of some districts regularly having higher rejection rates for mail ballots.
Still, even though previous years contain some eye-popping numbers for the percentage of mail ballots that were rejected, those rejections represent only a sliver of a sliver of the total number of ballots cast in those elections.
For example, the city of Fairbanks has three cases where the ballot rejection rates in a House district was above 10% of mail ballots. Those percentages, though, reflected a grand total of 40 ballots rejected out of 273 by-mail ballots that were returned. A vast majority of voters cast their ballots with other methods, with 3,904 total votes counted across those three instances. It may be a 14.6% rejection rate for mail ballots, but it affected less than 1% of all votes cast in that district.
It's a similar story for rural Alaska districts. The 2016 primary election where the Bethel/Lower Kuskokwim had the 35.29% rejection rate for mail ballots saw a grand total of 2,908 votes ultimately counted. The 6 rejected mail ballots accounted for less than 0.2% of the total votes cast.
Those huge rejection rates of the past only affected a tiny fraction of the overall votes cast. It means the problem has never been huge compared to the total votes cast, but it's amplified significantly in a by-mail election. This year's rejection rates may be lower than the highs set in the 2016 primary election, but they're being applied to many, many more ballots. The 16.91% rejection rate that the Bethel/Lower Kuskokwim district may be about half of its highest-ever rejection rate, but because most ballots were cast via mail that rate applies to all 2,123 ballots that have been sent in. The 359 rejected ballots from that district are nearly nine times more than all the ballots rejected over the last six elections combined.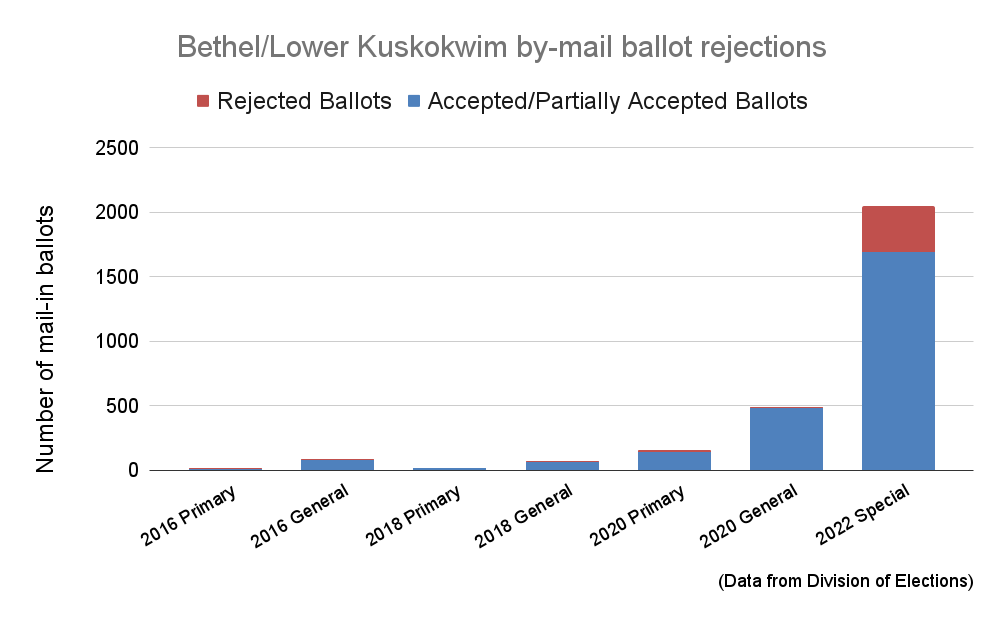 Exactly what has caused this trend and what, if anything, the state should be doing about it is a story for another day but it's hard to overlook the fact that voters in rural Alaska and a handful of other areas of the state have consistently—for whatever reason—seen a larger number of their mail ballots not counted than other areas of the state.
Next time: One weird trick for lowering the ballot rejection rate.