The Division of Elections on Wednesday released a detailed breakdown of the ballot rejection numbers from the June 11 special election, revealing the reasons why 7,504 ballots were not counted and how those reasons varied by each House district (remember, they're using the 2013 House districts and not the new ones).
While the report is not finalized (certification is expected on Saturday), the leading cause for rejected ballots was the witness signature requirement—which returned this year after being put on hold for the 2020 general election (resulting in the lowest rejection rate on record)—with it accounting for more than a third of all rejected ballots in this election. The witness signature requirement accounted for 36.3% of rejections (2,724 ballots), arriving late or being postmarked after election day accounted for 25.6% of rejections (1,924 ballots) and lacking a voter identifier accounted for 20.7% of rejections (1,556 ballots).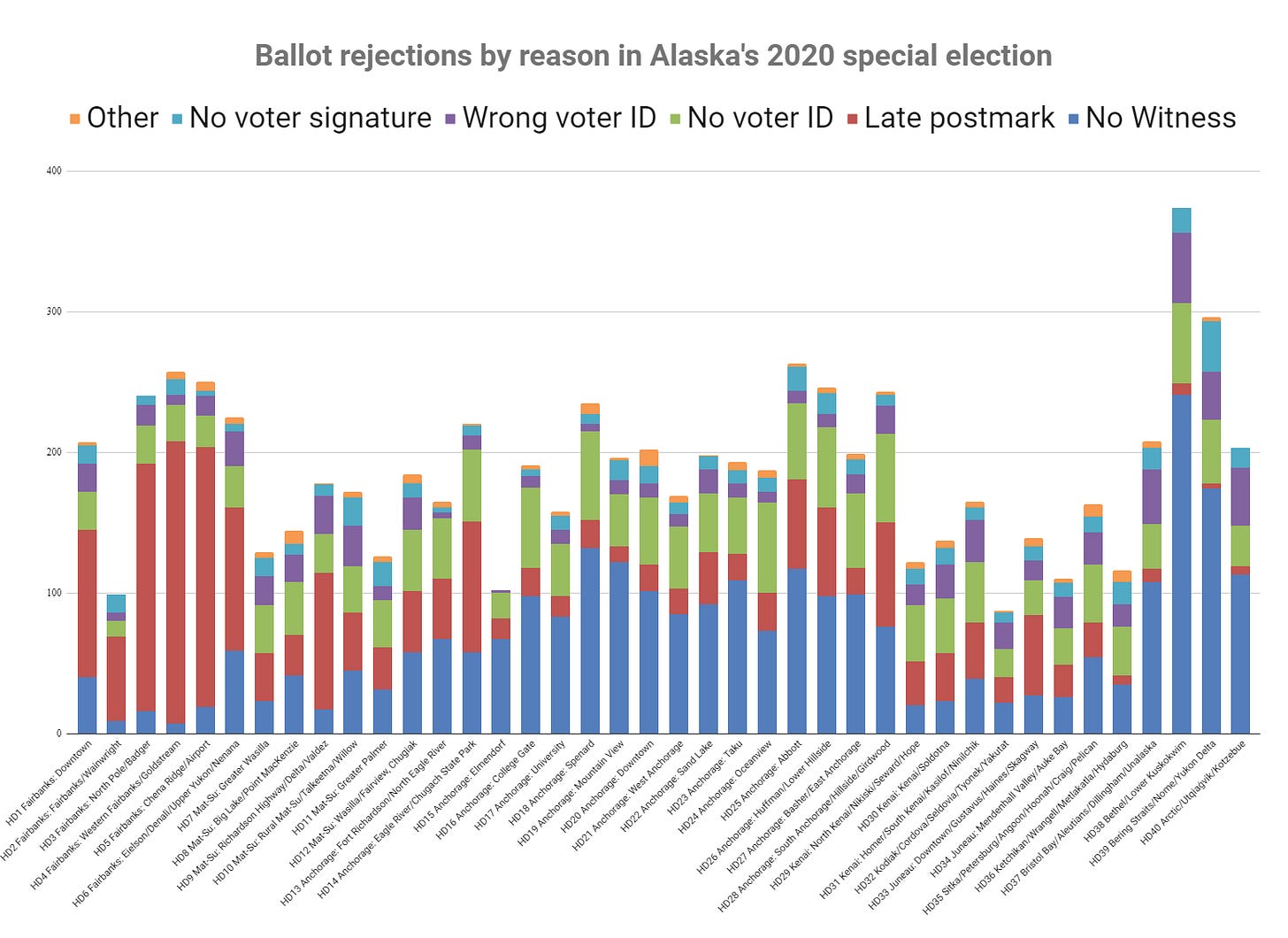 The state report lists 16 different reasons why ballots were be rejected. Most accounted for fewer than a dozen rejected ballots each. The other big reasons worth highlighting are the voter identifier not matching what's on file, which accounted for 9.3% of rejections (698 ballots), and not being signed by the voter, which accounted for 5.9% of rejections (443 ballots). In a more simplified breakdown:
Insufficient witness signature — 2,724 ballots (36.3%)
Arriving late or having a postmark after election day — 1,924 ballots (25.6%)
Lacking a voter identifier — 1,556 ballots (20.7%)
Voter identifier not matching what's on file — 698 ballots (9.3%)
Lacking a voter signature — 443 ballots (5.9%)
All other reasons — 159 ballots (2.2%)
There were also 16 voters statewide who returned an empty envelope. Dang!
Analysis: Let's look at the numbers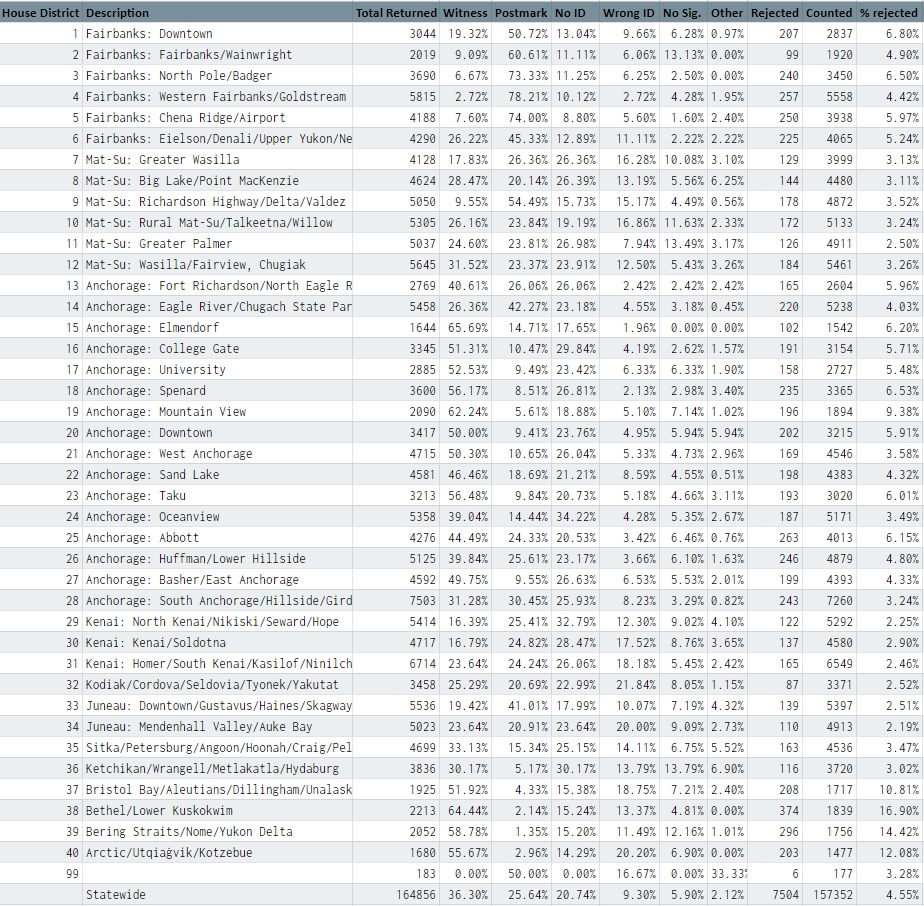 Just as the number of ballots rejected varied wildly from district to district—where rural Alaska saw a particularly high rate of rejections compared to the rest of the state—the reasons for rejections varied significantly from district to district.
Check the work: Find my breakdown of the complete report here.
The witness signature requirement was the leading cause of rejections in the rural Alaska districts that have been drawing much of the attention—HD37 to HD40—where it accounted for up to more than 50% of rejected ballots in those districts. In House District 38, the Bethel/Lower Kuskokwim district that saw one in six of all ballots cast by its voters rejected, the witness signature was responsible for 64.4% of rejected ballots (241 of 374 rejections). Interestingly, getting ballots in on time didn't appear to be a problem for the rural Alaska districts with just 27 ballots rejected across those four districts for not having a postmark by election day.
Anchorage—a city that has been holding by-mail elections but doesn't require a witness signature (instead, relying on a signature verification system)—also saw a majority of its ballots rejected because they didn't have a witness signature. The Mountain View House district, which saw the highest rejection rate of any urban district and is also one of the most diverse legislative districts in the country, saw 62% of its ballot rejections due to the witness signature (122 of 196 rejections).
The witness signature requirement was the leading reason or tied as the leading reason for rejections in 26 of the state's 40 House districts. There were 10 districts where late ballots were the leading reason or tied for the leading reason.
Oh, and here's the same unreadable chart from above but with the numbers: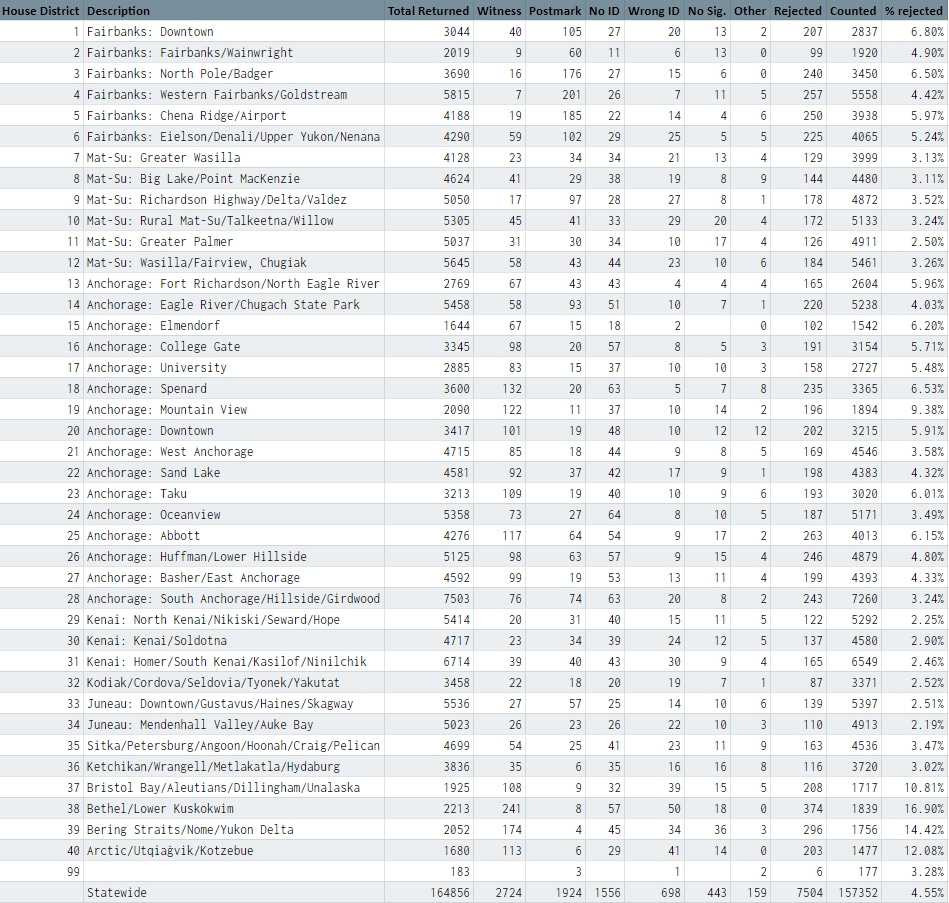 Why it matters
The concern from the get-go has been whether the ballot rejections reflect an inequity in Alaska's voting system and, specifically, whether the witness signature requirement effectively amounts to a literacy test that does more to prevent non-English speaking voters from casting ballots than it does for its intended purpose of catching fraud (the state court conceded in the 2020 litigation that it hasn't helped catch fraud). My breakdown of the numbers would suggest that the witness requirement is a bigger problem—for whatever reason—for voters in districts with greater numbers of non-English speaking voters. Speaking anecdotally, I know several well-informed voters who felt the directions on this year's ballot weren't particularly clear and noted that, in some cases, even varied depending on where you're looking (for example, the ballot says to have it witnessed by an official or, if one isn't available, to find anyone over 18 while the printed directions explained it in the reverse).
While some of these percentages might not look big on their own, it's important to remember that the topline numbers tell a very different story than when you start to drill into them and look at certain districts and regions. The witness signature requirement is clearly a significant hurdle for some legislative districts more than others, including others that had high rejection rates.
Fairbanks, for example, also saw a higher rejection rate than other parts of the state. Save for the Downtown Fairbanks House district, where about 20% of rejections were due to the witness signature, the witness signature was not a significant factor in rejections. Instead, the leading cause for rejections in ALL Fairbanks-area House districts was a late postmark, accounting for as much as 78% of all rejections in House District 5 Western Fairbanks/Goldstream.
Just what comes out of this is hard to say. I'd think that this election would make the case—to the courts or to legislators—that the witness signature requirement does little more than deprive people the opportunity to participate in elections, especially when the impacts are experienced differently between each region. For example, there's a 63-point difference between the districts with the highest and lowest rates of ballots rejected over the witness signature requirement. Meanwhile the spread between the districts with the highest and lowest rates of rejected ballots due to failing to include a voter identifier was 25 percentage points.
Some amount of rejected ballots is always going to be an issue but when the burden is so clearly landing on one region more than an another, it needs attention.