Adapted from The Midnight Sun Memo, a newsletter project from your humble Midnight Sun editor. For everyone who's been asking about keeping up via email or how to support the work we've been doing here, we finally have an answer in this nifty newsletter. Sign up now!
Welcome to the latest edition of Friday in the Sun, our infrequent column attempting to catch up and break down whatever Alaska political news that can break through all this summertime haze.
As always, get ahold of your dear ol' editor at [email protected] with tips, tricks and corrections and, as always, have yourself a nice, long weekend. Stay safe out there.
Facing pressure over insurrection, Trump plans Alaska getaway
It's a tale as old as the Chilkoot Trail. Facing mounting troubles in the Lower 48 over a continual churn of revelations that he was aware of armed insurrectionists but didn't care, that his camp is likely tampering with witnesses and that he's prone to childish fits of fast food-fueled rage, former President Donald Trump is planning a getaway to Alaska.
Far-right Republican candidates Kelly Tshibaka, Sarah Palin and Gov. Mike Dunleavy—apparently unbothered by the latest revelations that Trump played an even more active role in the insurrection than previously thought—are set to play host at a July 9 rally in Anchorage at the Alaska Airlines Center.
"It will be a great honor to welcome President Trump to Alaska for what will be the greatest attended political event in our state's history," said a prepared statement from Tshibaka, who floated her own plan to overturn the results of Alaska's elections based on Trump's Big Lie.
Before insurrectionists stormed the capital on Jan. 6, 2021, Tshibaka mused on Facebook that the lawsuits to overturn President Joe Biden's election could be used to reverse the passage of Ballot Measure 2's election reform measures that did away with the semi-closed party primary that would've given her the best shot to beat U.S. Sen. Lisa Murkowski.
In since-deleted Facebook posts, Tshibaka wrote "If TX prevails, Alaska's 2020 election results can also be revisited … Imagine what this could mean for Proposition 2 (where absentee ballots tipped votes in favor of the jungle primary) and for certain State Legislature races? Alaska can throw out all absentee ballots without a witness signature, for example."
In a follow-up comment, she wrote that she didn't think the state should actually join the Texas lawsuit (something that Dunleavy tried and failed to do), but wrote that "I'm saying we leverage the potential victory to fix the problem our court created…"
As highlighted by Dermot Cole, Palin has embraced the underpinnings of the Big Lie and Tshibaka hides behind the spurious claim that no one really knows whether Biden won the election. Dunleavy also flirted with the Big Lie, appearing on a far-right podcast where he said there's an "outside chance" Biden will become the next president.
While Palin and Tshibaka received full endorsements from Trump for their respective offices, Dunleavy received one conditioned on him not endorsing Murkowski.
"He has my Complete and Total Endorsement but, this endorsement is subject to his non-endorsement of Senator Lisa Murkowski who has been very bad for Alaska, including losing ANWAR [sic], perhaps the most important drilling site in the world, and much else," explained Trump's initial endorsement that further elaborated on the obvious by adding, "In other words, if Mike endorses her, which is his prerogative, my endorsement of him is null and void, and of no further force or effect!"
"With regard to the other issue, please tell the President he has nothing to worry about," Dunleavy said in a statement that the Trump office released.
You can sign up for tickets to the event here, but before you get really excited about snatching up tickets by handing over your phone number and email address, know that actual admission is first come, first serve.
And, hey, if you're looking for a way to blow $20,000: 
Laaaaame tricks
Nick Begich didn't get the invite to the rally but had this… zinger lined up in a prepared statement as reported by the Anchorage Daily News:
"I wonder if Sarah will be wearing a mask, bear costume and dancing on stage?" Begich said. "When the show is over, Alaska's challenges will remain and Alaskans will be cleaning up the mess of yet another Sarah Palin show."
In a year of bad campaign attacks, though, the crown still belongs to Kelly Tshibaka, whose campaign pumped out this mad libs-style dig at… "Billie Joe from Green Day"?
As Twitter's Slim Riggins reminded us: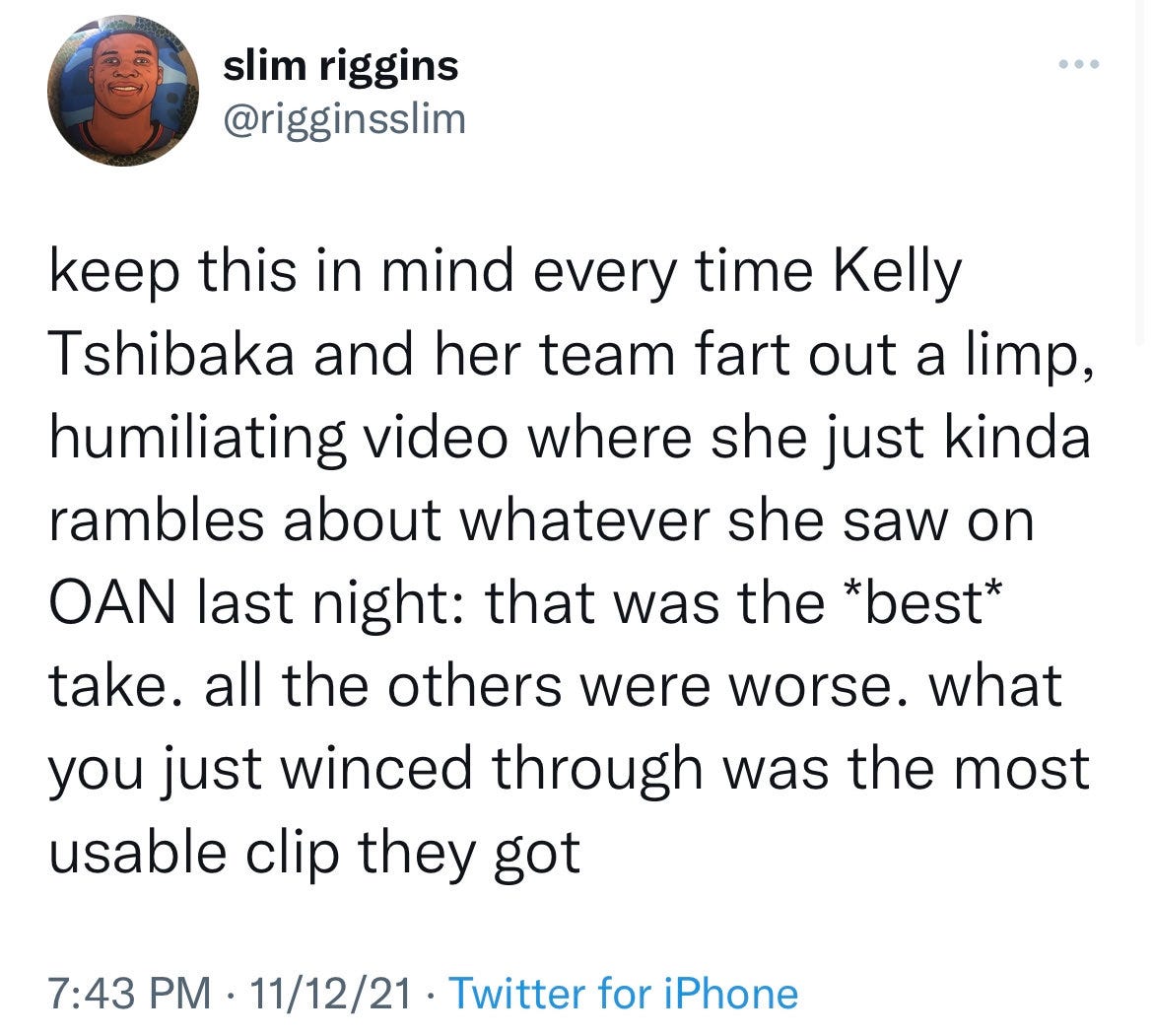 The strategy of ranked choice voting
I've seen a lot of debate lately about whether we should be ranking all candidates on our ranked-choice ballots.
I think, importantly, you can vote however you want. It's a secret ballot after all. But before you start whooping and hollering about freedom, let's break it down a bit.
While Ballot Measure 2 was, at times, pitched as a way to vote your conscience and eliminate the less-than-great practice of voting against bad candidates by voting for the least-bad candidate, we need to be clear that there's still strategy in ranked-choice voting. It's just different and perhaps not all that intuitive, especially when you layer on the general confusion and disinformation campaigns.
As a reminder, the system of ranked-choice voting—sometimes called instant runoff, which may be actually a better way to think about it—allows voters to rank as many candidates as they want, one through four. Those rankings only come into play if a candidate doesn't cross the 50% of the vote on the first round (where the instant run-off comes into play). If no one has a majority of the vote on the first round, the election proceeds to the second round where the candidate with the fewest first-rank votes is eliminated and those votes are redistributed according to the second-choice rankings, if any, their voters made. The rounds proceed until there's a candidate with 50% of the vote (or on the off chance we run out of rounds, the candidate with a plurality of votes wins).
So, do we need to be ranking the full ballot? Does it matter?
Let's take the presumed general election gubernatorial race with a slate of Republican Gov. Mike Dunleavy, independent former Gov. Bill Walker, Democratic former Rep. Les Gara and Republican Kenai Mayor Charlie Pierce as an example (Sorry, Christopher Kurka, your princess is in another castle). And let's say you're a progressive voter split between Walker and Gara.
At the top of the ballot, I think it's relatively clear how to vote. Vote for your favorite candidate and, hey, if there's one that you also kinda like, then rank them second. The strategy here, if there is any, is that your preferred candidates need to actually survive those initial rounds if they're going to win. There's been elections, for example, where a centrist second-place choice was eliminated in the first round because they didn't get enough first-place choices. That's something to keep in mind but, frankly, that's an issue the campaigns need to be thinking about.
What's really more interesting to me is what, if anything, you do with your third- and fourth-place choices. In this scenario it's likely that once you get to that end of the ballot, those candidates—Dunleavy and Pierce—are ones you would never dream of voting for. I see a lot of people fuming they're being asked to consider casting a vote for candidates they would never support.
To which, I'd say that's a totally fair objection.
It's entirely possible that Pierce is eliminated in an early round, leaving the final decision between Dunleavy and Walker or Dunleavy and Gara. However, if the race somehow comes down to a decision between Dunleavy and Pierce, then is that a race you would want to have say in?
For some, the answer is no. For others, they might want to avoid the worst possible outcome by voting for the second-worst possible outcome.
Ultimately, this is a decision that only you can answer for yourself.
The big picture
I think the most important thing to understand about ranked-choice voting is that it's not some magical, silver-bullet plan to get candidates of your preferred party elected in every corner of the state. There's no fair election system that, for example, will see a Democratic candidate prevail over extreme-right Rep. David Eastman out in Wasilla. Nothing will overcome the underlying numbers that will forever see a Republican hold that seat.
If you really want to talk about votes not counting, there's about 20% to 25% of the electorate there that has voted for the Democrat over Eastman in recent elections. Under the previous system, the election was already essentially over once Eastman won the semi-closed party primary. With ranked-choice voting, though, that 20% to 25% of voters now have a greater shot at shaping the kind of representation that comes out of that district. Will a Democrat win? No (mostly because there's not even one filed to run in this election), but those votes could go a long way to putting a moderate Republican in over Eastman (who only just barely won his primary in 2020).
Ultimately, Ballot Measure 2 will require changes not just from voters but from campaigns that need to understand they can no longer run in a world protected by the semi-closed party primaries that encouraged candidates to appeal only to primary voters in the most extreme, dog-whistly ways possible. A candidate looking for a real shot at beating David Eastman need not worry about appealing only to those primary voters but instead to those 25% of voters who voted for Democrats in the past and the 47% of primary voters who voted against him in 2020.
Again, this isn't a silver bullet. Ranked-choice voting doesn't guarantee your preferred candidate will win… but it does mean there's a shot you won't be deeply embarrassed by your representation at the end of the day.
'But I love her!'
And if you're looking for advice on how to rank in the special election, here's a pretty interesting moment from the Anchorage Chamber of Commerce's forum this week where they asked the candidates who'd they rank second. 
Inept cruelty is the name of the game for Bronson
It's been a while since we've looked in on what's going on with Anchorage Mayor Dave Bronson and his plans to shut down the shelter at the Sullivan Arena: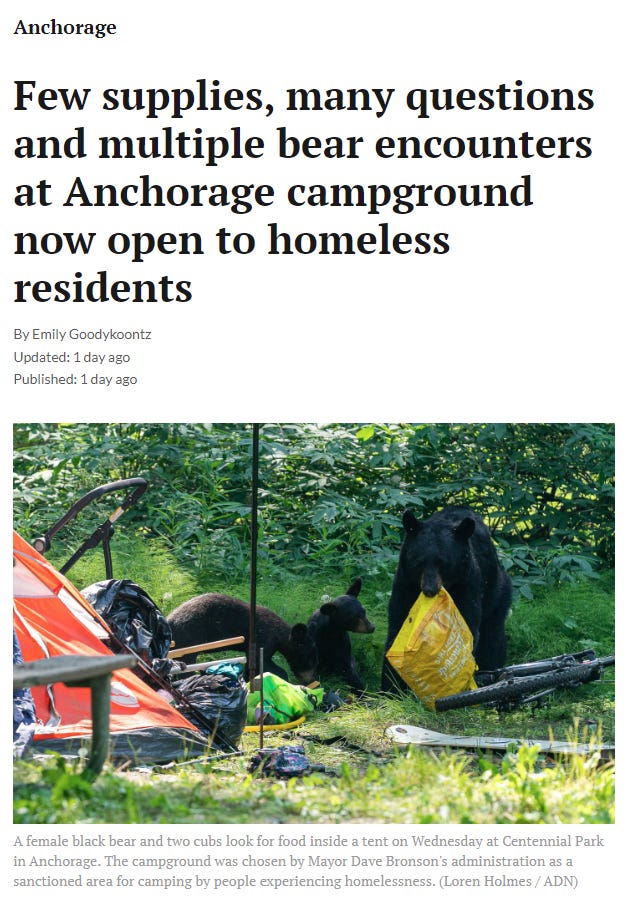 From the Anchorage Daily News' reporting on what's going on:
Chiklak hopes they can get camping supplies like a tarp, jugs for water, a cooler and a stove or grill to cook food with the $150 voucher she'd just received for the Salvation Army store, she said. She had no bug spray, bear spray or sunscreen.

For now, she has a flimsy 12-ounce water bottle to refill and no way to cook food. With the burn ban in effect, campfires are not allowed.

She's afraid of attracting bears and doesn't have a way to keep food on hand. Chiklak heard a commotion on Tuesday night as bears went inside a nearby tent, drawn by the scent of food.
And earlier in that same story:
The first and most pressing matter is determining how many people the campground can safely accommodate, (newly appointed Parks and Recreation Director Mike) Braniff said.

"We're also very focused on, you know, how do we prevent a fire here? What are our policies, what are the rules? Right now, we're not allowing any fires here," he said. "Food safety and bear safety is at the top of our list."

A little while later, campground workers, Braniff and a security guard listened as Alaska Department of Fish and Game wildlife biologist Dave Battle warned that they would face further bear encounters without strict enforcement of safety measures.

"This right here is a bear factory," Battle said, pointing at the Chugach Mountain range and the nearby Joint Base Elmendorf-Richardson wilderness area.

"Just the nature of the change in the makeup of this campground — it's really concerning," Battle said. "I don't have anything magical to say, I just really want to continue working with camp staff and brainstorming on how to minimize the attractiveness in this camp" to bears.
Yikes.
Alaska Public Media's reporting on the situation paints a similarly confusing and dangerous picture of what's going on:
For Sean Shields, the closure of the Sullivan shelter felt like a betrayal. 

"They promised all these people housing or some way to get housing and not to be bussed out of sight of people so nobody can see them," he said. "That's not right."