Adapted from The Midnight Sun Memo, a newsletter project from your humble Midnight Sun editor. For everyone who's been asking about keeping up via email or how to support the work we've been doing here, we finally have an answer in this nifty newsletter. Sign up now!
Shortly after I wrote my last piece on Anchorage Mayor Dave Bronson, he took a victory lap for his first year in office. Everything's great because of me, was the gist of it, and if not, then it's the fault of the Anchorage Assembly and the media. On the issue of homelessness, he wrote, "This administration has done more in regards to helping solve homelessness in the history of the municipality." How dare the press, the Anchorage Daily News and the Anchorage Assembly dare suggest that the Bronson administration doesn't care about people experiencing homelessness?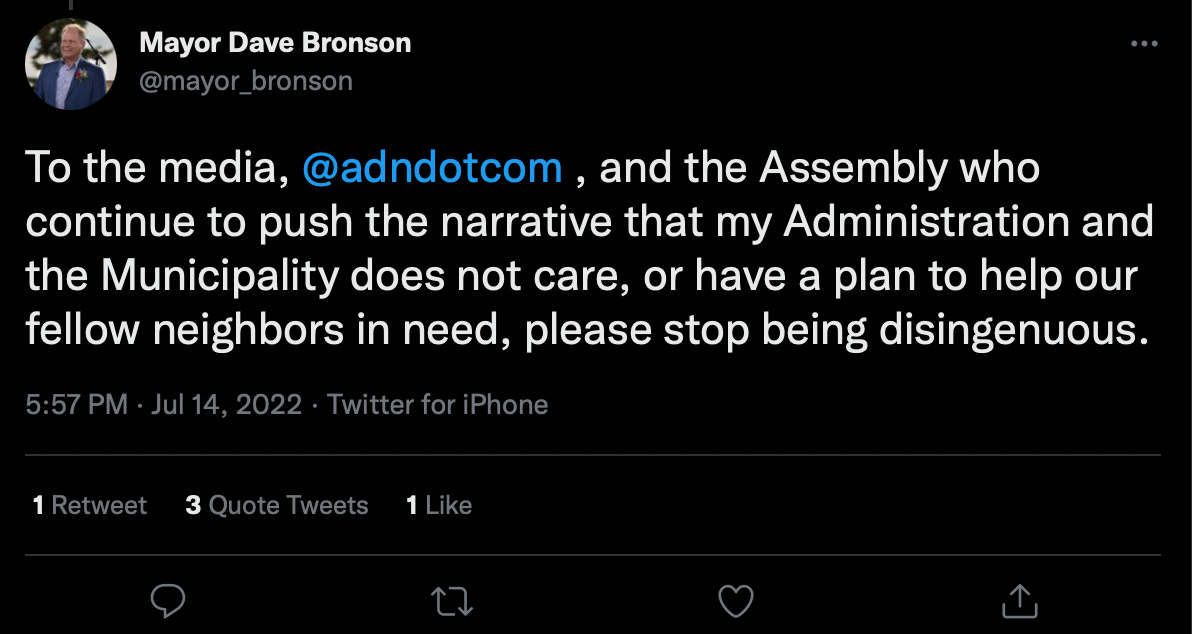 That night, his administration no-showed a community council meeting where community leaders were hoping to get more information on Centennial Campground—a car camping site at the edge of town adjacent to what a wildlife expert called a "bear factory" where the Bronson administration had bussed people following the closure of the Sullivan Arena shelter at the end of June—and its future.
Despite his apparent best-in-the-history-of-Anchorage response to homelessness, the Bronson administration has repeatedly claimed that the camp is not part of the city's response to homelessness and therefore the city and the Bronson administration has zero responsibility to provide even basic services to the 200-some people—including children—they put there. Talking to the public, then, wasn't his responsibility.
"You know, this administration is just gaslighting the public," community council President George Martinez said, per Alaska Public Media. "You don't move people from a homeless shelter into a park and then call them campers… and think no one sees that. We know what it is."
That following day, news broke that a woman died at the of an overdose at the camp just hours after that community council meeting. It's unclear what, if any, emergency services were available onsite.
A weekend of rain has only made the situation there more dire.
Community organizer Kendra Arciniega posted on Sunday about the experience dropping off sandwiches and other supplies at the campground:
"We witnessed children outside barefoot + in sandals w/only soaked sweaters as a source of warmth. The area is flooded. No umbrellas. Hardly any tarps. Everyone soaking wet & shivering, standing in line for food, frantically searching for coffee as a means to stay warm," she wrote on Twitter "One gentleman told us that he woke up in the middle of the night to some guy he didn't know going inside his tent & laying next to him just to sleep. The rain is incessant. Campers are so desperate for dry shelter that they're willing to breach other people's tents."
What little services there are at the campground has been provided by a patchwork of volunteers, groups and community members like Arciniega. Even that has its limits, leaving the campground without a clear plan, direction, organization or dependable resources. Per the ADN's reporting:
Some of the social service providers and volunteers who have scrambled to help meet campers' basic needs say they will have to stop working in the camp because of safety concerns.

…

Homeless advocates and providers who have spent time on site, including Branson, say drug use, theft and violence are all on the rise. People with disabilities, families with children and other vulnerable people residing inside Centennial are at risk, they say.

"Not all of these folks are going to make it," (Houseless Resource Advocacy Council Chair Roger) Branson said during Thursday's meeting. "This is rough. This is hardscrabble inside there."
Other headlines since the last newsletter
If this is at all alarming, it should be.
But skim the responses of Bronson supporters on social media, though, and you'll see a grim trend start to come together. It's not Bronson's fault. It's the fault of the Anchorage Assembly, most argue, but in some cases the blame turns to the unhoused people themselves. Their homelessness is the consequence of their actions, they argue, or people are choosing to live like this. The woman who died, they argue, could have died in any random camp and it wasn't anything that Bronson should be concerned about. It's not Bronson's responsibility, is the common thread you'll see among his supporters, and certainly not his fault.
It's a revealing bit of cruelty—an underlying belief that the people stuck in this situation, including the children, deserve this kind of treatment—that is more informative than statements like this one from the Bronson administration:
"This administration has done more in regards to helping to solve homelessness than any administration in the history of the municipality," Bronson said in the statement. "To state the administration and our amazing departments in the Municipality did not have a plan is a slap in the face to every single employee who has worked countless hours to help those in need over the past year."
So… what, I ask, is the plan?
For people who've seen it first-hand, who've sought to help their neighbors rather than buy into the alternate, responsibility-free narrative put forward by Bronson, it's impossible to ignore the failure of leadership.
"The situation at Centennial Park is a humanitarian crisis. Anchorage Mayor Dave Bronson failed these adults, elders, teens, children & veterans in the gravest terms," Arciniega wrote. "Character is how you treat people who can do nothing for you. This is a portrait of Mayor Bronson's character."