Adapted from The Midnight Sun Memo, a newsletter project from your humble Midnight Sun editor. For everyone who's been asking about keeping up via email or how to support the work we've been doing here, we finally have an answer in this nifty newsletter. Sign up now!
Campaign finance reports for state offices came out this week, giving us our first really good look at the state of the races for governor and the Alaska Legislature.
Today, we'll be taking a look at the governor's race where former Gov. Bill Walker leads in overall fundraising, Republican Gov. Mike Dunleavy leads the fundraising for the latest reporting period and Democratic candidate Les Gara leads in both smaller-dollar contributions and in-state fundraising. Overall, every candidate is taking advantage of the option to accept unlimited campaign contributions with nearly half of all the money in the gubernatorial race coming from contributions that would have broken the old limits.
But first, let's have a talk about the limitations of crunching Alaska's campaign finance data, or: Why we should better fund the Alaska Public Offices Commission.
Limitations on campaign data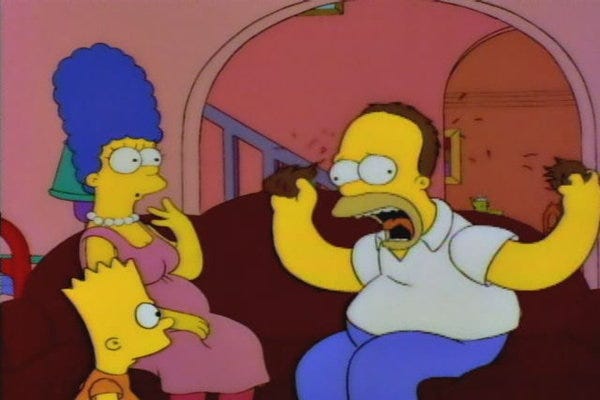 After two-and-a-half solid days crunching the most recent round of campaign finance data, I've got a tidy little pile of charts and takeaways about the state of the fundraising race for governor. But before we get to all that fun stuff, we really need to talk about the state of Alaska's campaign finance information and its limitations, whether it be the inherent design of the system or the many, many typos that are introduced when information is entered by hand (which is saying something coming form me).
Basically, it's messy. Short of going through the roughly 24,000 contributions that have been made during the course of the 2022 primary election cycle by hand there's no sure-fire way to sort the data with as much specificity and accuracy as we'd like. Want to know how much money candidates are getting from PACs? Me too! But there's no simple way of filtering that out as campaigns all seem to approach reporting in slightly different ways. Heck, even Gov. Mike Dunleavy's deep-pocketed brother is listed multiple times with slightly different addresses, with him living on a "Drive" in one report and a "Dr." in another that makes aggregating his contributions not so easy (to be clear, he gave $200,000 directly to Dunleavy's campaign, making him the single biggest contributor in this election cycle).
To put a fine point on the problem, campaign treasurers have found 33 different ways to list the state's most-populous city:
Abchorage, Achorage, Acnhorage, ANC, Anch, Anchoage, Anchoarge, Anchoerage, Anchorae, Anchorage, ANCHORAGE, anchorage, ANchorage, Anchorage +, Anchorage AK, Anchorage,, Anchorage, AK, Anchorage, AK (ANC-Anchorage Intl.), Anchorage, AK 99516, AnchorageAK, Anchoragee, Anchoragerage, Anchorages, Anchoragew, Anchoragr, Anchorahe, Anchorgae, Anchorge, Anchorsge, Anchotrage, Anchrage, Anchroage, Anhorage
That's not to say it's impossible to get within the ballpark of some these figures, but I can't be sure it's exact. For example, I just spent about five hours today figuring out a way to separate individuals making contributions from groups making contributions in a manner that I feel pretty confident in, but that doesn't mean human error still isn't a problem. For example, some vacant fields in Christopher Kurka's report made it look like he was hauling in a grand total of $50 from PAC contributions (He's not).
Anyway, that's all to say that I'll do my best in this post to explain where I'm confident in the numbers down to the penny and when we're working in best estimates. And, always, you know where to find me if you have any questions.
Let's get to it.
The State of the Race: The Governor's Race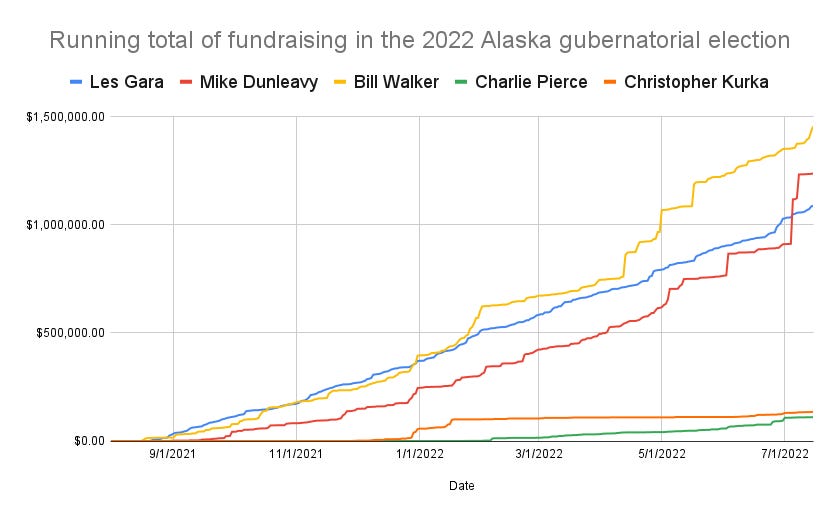 In one run-on sentence: Former independent Gov. Bill Walker leads the way in overall fundraising for the 2022 election cycle with a running total of $1.54 million raised so far, followed by Republican Gov. Mike Dunleavy at $1.23 million and Democratic candidate Les Gara at $1.13 million; Dunleavy had the strongest fundraising of the period covered in the latest reports with $925,380.13 raised from Feb. 2 to July 15 of this year, followed by Walker with $831,867.80 and Gara with $575,410.14; Both Walker and Dunleavy have a fair amount of big-ticket contributors thanks to the end of the campaign finance limits while a vast majority of Gara's fundraising would have been legal under the old campaign limits; Gara also led the way among the top-three campaigns in terms of in-state fundraising, with just 8.9% of his total fundraising coming from Outside sources compared to 42.2% for Dunleavy and 28.5% for Walker; and extreme-right Republican candidates Charlie Pierce and Christopher Kurka's fundraising efforts were also largely Alaska-focused but an order of magnitude lower than the top-three campaigns with Pierce raising $120,353.36 so far and Kurka raising $134,991.80.
WHEW!
Alright, what have we learned about things so far?
The big picture
It's really a dead heat in terms of fundraising between Walker, Dunleavy and Gara, which is why I'll be mostly focusing on those three in the next few sections. Despite not having several big-ticket contributors to his name, Gara is keeping pace with the crowd and would have outpaced Dunleavy altogether if not for the deep pockets of Mr. Francis Dunleavy of Kirby Drive and Mr. Francis Dunleavy of Kirby Dr. While I think folks would've seen Gara as the distant third at the early stages of the race, both his fundraising and his polling performance would suggest that he's in a stronger spot than expected. Perhaps that's why he's been more aggressive with Walker in recent weeks, letting Dunleavy off relatively light (much to the irritation of the centrist anti-Dunleavy crowd who see Walker as a better shot to unseat Dunleavy in the world of ranked-choice voting).
Interestingly, while there's plenty of conservative talk radio chatter in support of Pierce and Kurka as conservative alternatives to Dunleavy—who's a RINO in their eyes—it's not being reflected in the fundraising numbers. Even when you take off the big-ticket contributions to the leading campaigns, Pierce and Kurka are way off in the dust right now. Still, a bunch of free conservative airtime doesn't hurt.
The brave new world of unlimited contributions

Of the five leading gubernatorial campaigns, every single one is taking advantage of the court-ordered end to the state's campaign limits. Just to what degree, though, varies significantly.
Walker and Dunleavy have hauled in contributions in the $100,000 to $200,000 range from deep-pocketed contributors that will greatly skew their overall numbers. Those big-ticket contributions include:
$200,000 from Dunleavy's brother Francis Dunleavy to Mike Dunleavy
$134,000 from Kansas politician Greg Orman to Bill Walker (split between $103,000 in cash contributions and $28,500 in polling)
$100,000 from New York trading partner Jason Carroll to Bill Walker
$100,000 from New York author Kathy Murdoch to Bill Walker
$100,000 from Minnesota real estate developer Armand Brachman to Mike Dunleavy
$100,000 from Alaska developer Bob Penney to Mike Dunleavy
$31,000 from Alaska attorney Robin Brena, who led the charge against the campaign contribution limits, to Bill Walker
$15,000 from Alaska attorney Robin Brena, who led the charge against the campaign contribution limits, to Les Gara
When considering the degree to which the unlimited campaign contributions have altered fundraising this year, let's look at the different levels past and proposed.
Warning: This is where things start to get a little hairy with the "Is it a PAC or an individual giving money" issue. I'm pretty sure I've filtered out the PAC contributions—as well as the candidates' own contributions to their own campaign—when considering these numbers against the different limits for individuals, but it's APOC data so who really knows for sure!
The defunct $1,000 limit. The former campaign contribution limits were $500 for individuals giving to campaigns, which was doubled for gubernatorial campaigns, each calendar year. If we look at that, a vast majority of Gara's contributions from individuals would have fallen under the $1,000 limit with about 73% of the funds that came from individuals coming from those who've given $1,000 or less to his campaign over the course of the election cycle.
More than half of Walker's campaign funds raised from individuals came from contributions that would have been legal under the previous limits, but just barely. He's sitting at 53% of his fundraising from individuals coming in under that $1,000 limit. Meanwhile, only 38% of Dunleavy's money from individual contributions would have been allowed under the old system.
The proposed $4,000 limit. Last session the Alaska Legislature considered setting new limits at $2,000 per candidate, which would be doubled to $4,000 for gubernatorial candidates, each election cycle. Despite the best efforts of legislators to get it across the finish line in the final minutes of session, it fell flat. It may have all been moot anyway because Dunleavy, who has the veto pen, has been outspoken in support of unlimited campaign contributions as long as they're publicly disclosed.
Which, thanks to those public disclosures, I can say that Dunleavy also leads the way in campaign contributions that wouldn't have been permitted under the higher threshold proposed by legislators.
Of his campaign funds that came from individuals, about 38% came from those who've given more than $4,000 to his campaign, for a grand total of about $465,000. Walker's big-ticket contributions also put him up there with 31% coming from individuals who've given more than $4,000 to his campaign—a grand total of $418,500.00—while only 4.6% of Gara's campaign funds—$50,000—would have crossed that threshold, the lowest of any of the five leading candidates.
Number of contributors. As I'm writing this now, I'm realizing that I didn't break down the number of contributors into the above brackets and while I'd be tempted to do so, I'm also not thrilled about spending another several hours to get this done. So, at the very least, here's the raw total number of contributors that each campaign has so far. These are the number of unique* individual contributors I've come up with for each campaign:
Les Gara – 3,249 unique* individual contributors, 6 groups
Mike Dunleavy – 2,931 unique* individual contributors, 7 groups
Bill Walker – 2,292 unique* individual contributors, 22 groups
Christopher Kurka – 322 unique* individual contributors, 0 groups
Charlie Pierce – 274 unique* individual contributors, 0 groups
*Unique=Same EXACT name and same EXACT address. Precision in APOC data is unattainable, so plus or minus… a lot.
The takeaway: No one can really lay claim to the high ground in the world of campaign contributions, and why would they? Turning down big-ticket contributions would put you at a big-time disadvantage unless you're Les Gara, who has managed to keep up with Dunleavy and Walker despite not catching the eyes of those with money to burn.
Alaska vs. Outside
Outside Anywhere that is not Alaska. Usually refers to the rest of the United States. No quotation marks. Can be descriptive or pejorative, depending on context. Avoid pejorative uses unless part of a quotation essential to the story.
-The Associated Press Stylebook for Alaska, Second Edition
Ah, we're back in relatively charted territory here because, mercifully, the APOC system only allows you to spell Alaska one way. That makes it much easier to sort where the money is coming from.
Here, Gara stands out from the frontrunners with just 8.9% of his total fundraising coming from Outside sources, contrasted with 28.5% of Walker's fundraising and 42.2% of Dunleavy's fundraising.
While we're talking about hypothetical situations, both Walker and Dunleavy would find themselves out of compliance with the campaign finance bill that died at the end of session. A floor amendment on that legislation would have placed a limit on how much of your fundraising can come from Outside to 25%. Walker would be just over that, while Dunleavy would be in big trouble.
Charts!
Here's all of the data from above chunked together into some charts. Sorry that they're just the bog-standard styling out of Google Sheets but, hey, there's only so much time in the day. Click on any of the below to expand them to get a better look.
Gov. Mike Dunleavy (R) — total of $1,236,760.37 raised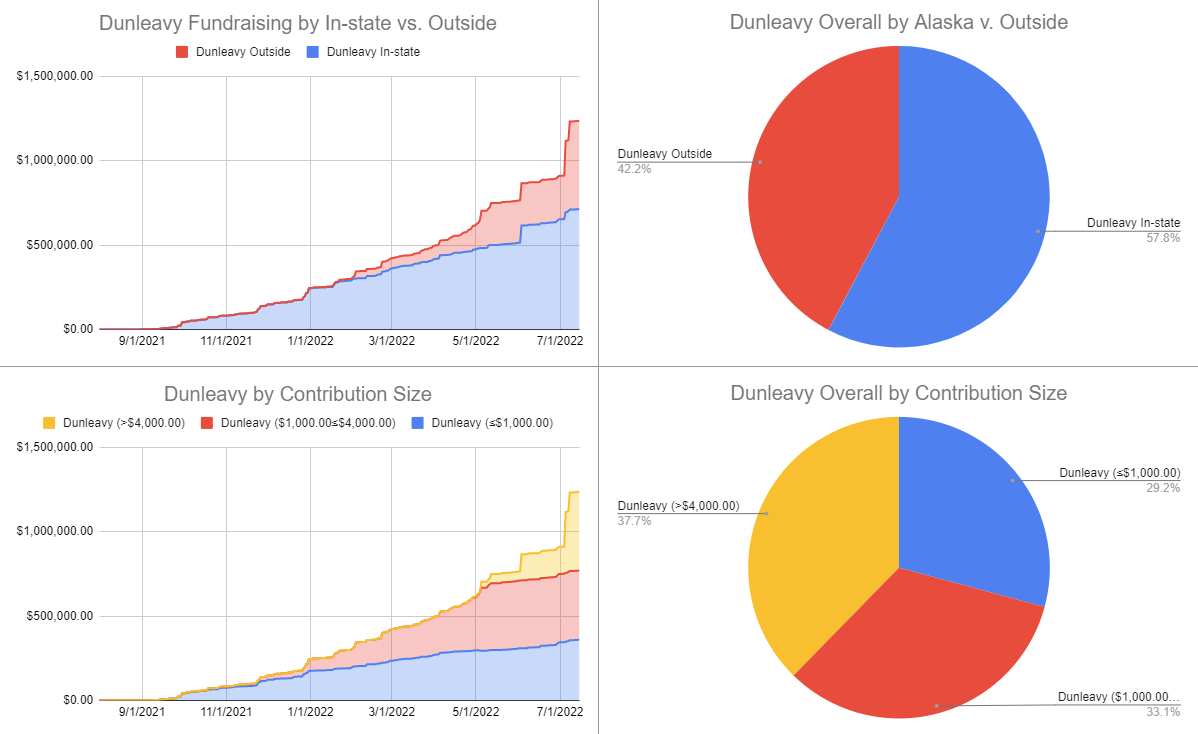 Former Gov. Bill Walker (I) — total of $1,543,972.26 raised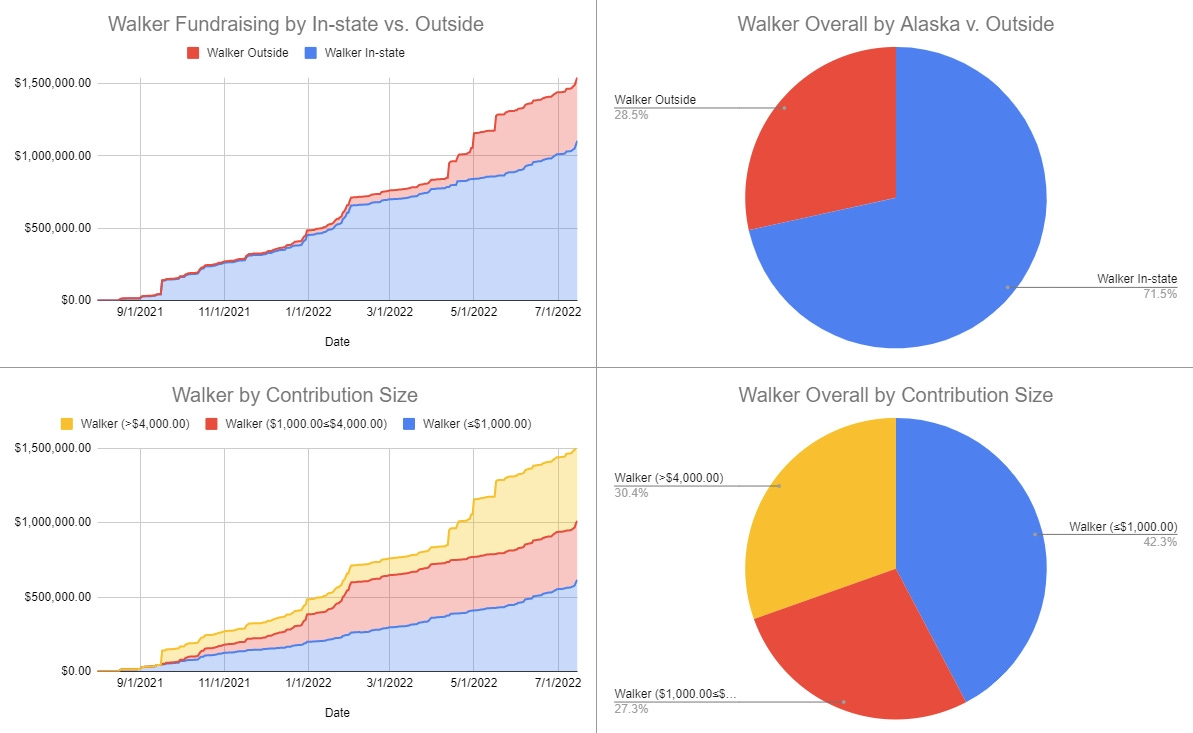 Former Rep. Les Gara (D) — total of $1,113,993.64 raised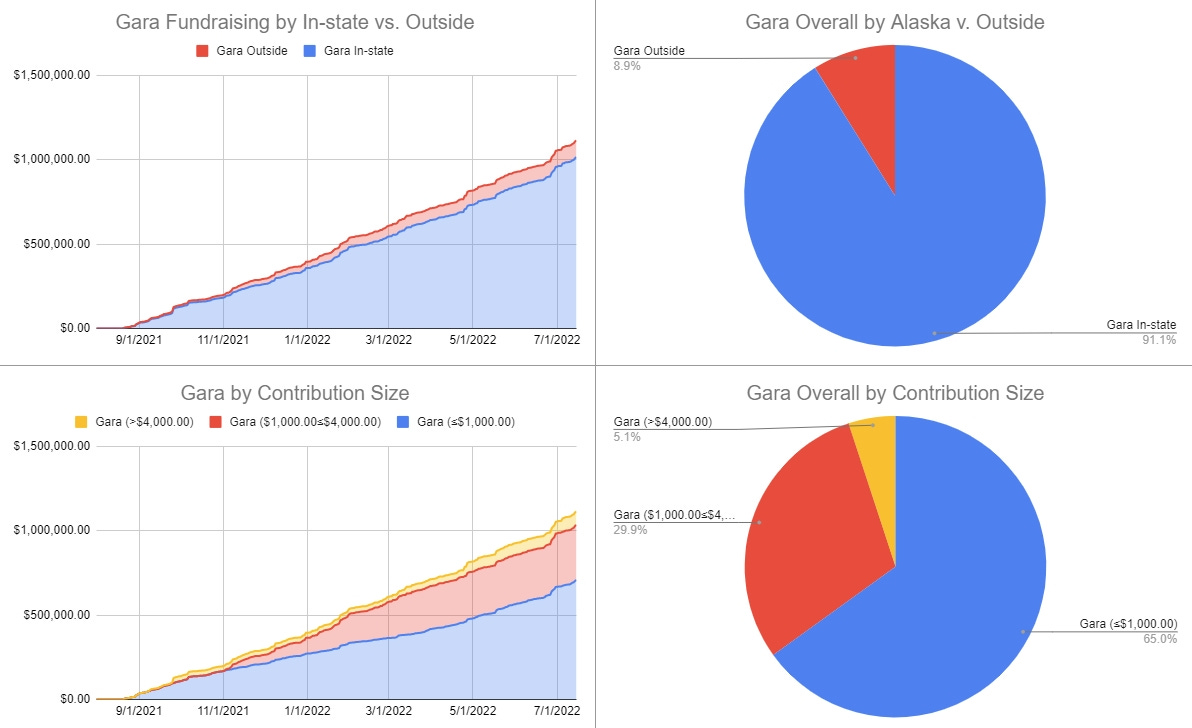 KPB Mayor Charlie Pierce (R) — total of $129,892.10 raised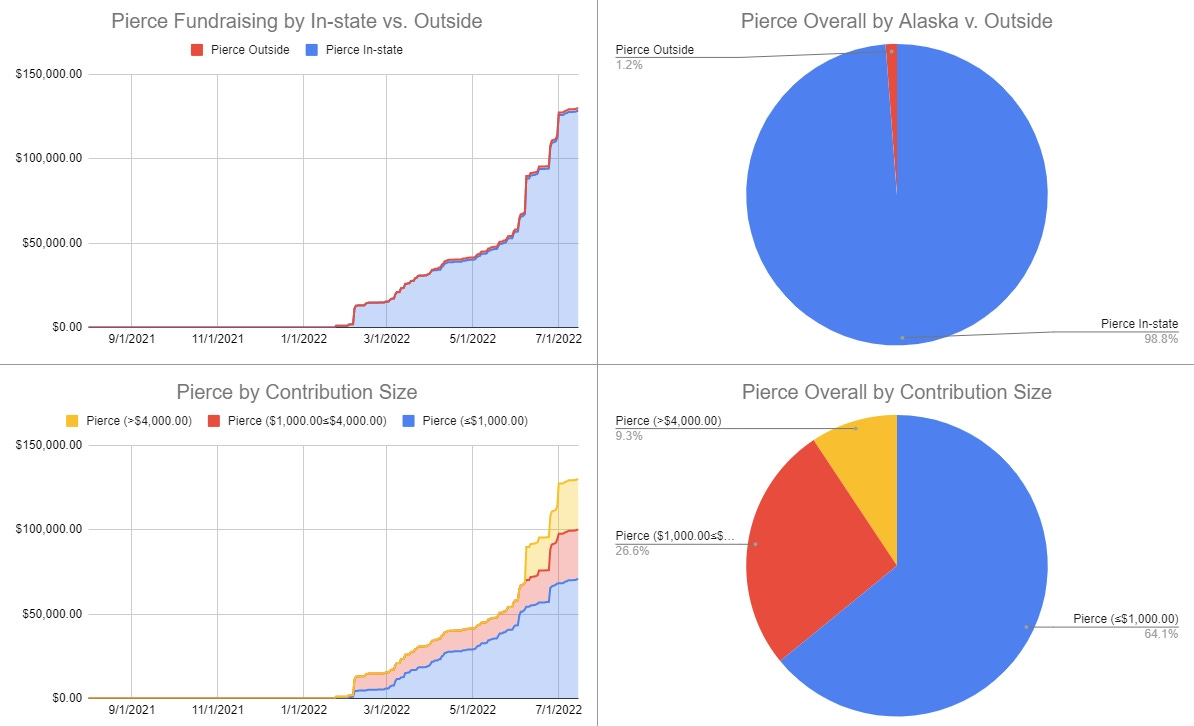 Rep. Christopher Kurka (R) — total of $134,991.80 raised