Adapted from The Midnight Sun Memo, a newsletter project from your humble Midnight Sun editor. For everyone who's been asking about keeping up via email or how to support the work we've been doing here, we finally have an answer in this nifty newsletter. Sign up now!
Bethel Democrat Mary Peltola, a former state legislator who catapulted from a crowded 48-person primary to the front of the race to fill the remaining four months of U.S. Rep. Don Young's term, is the winner of Alaska's first ranked-choice election and will become the first Alaska Native person to serve in Congress.
Also, it's her birthday.
Peltola came into the day with a roughly 9-point lead over Republican former Gov. Sarah Palin, but many gave Palin the edge with the state's new election system slated to redistribute the votes that went to write-in candidates and third-place finisher Republican Nick Begich III according to voters' preferences.
After all, Republicans will vote for Republicans… right?
That turned out to be true, but not true enough when the Alaska Division of Elections today conducted the tabulation of the first election completed under the reforms approved by voters in 2020, which implemented open primary system where the top four advance to the ranked choice general.
With a blurry livestream, the Division of Elections officials clicked through a few buttons on the state's tabulation system, first redistributing the write-in votes and then the much bigger bloc of Begich votes according to voter preferences. The processing was near-instant, and it was Peltola's name who appeared in green.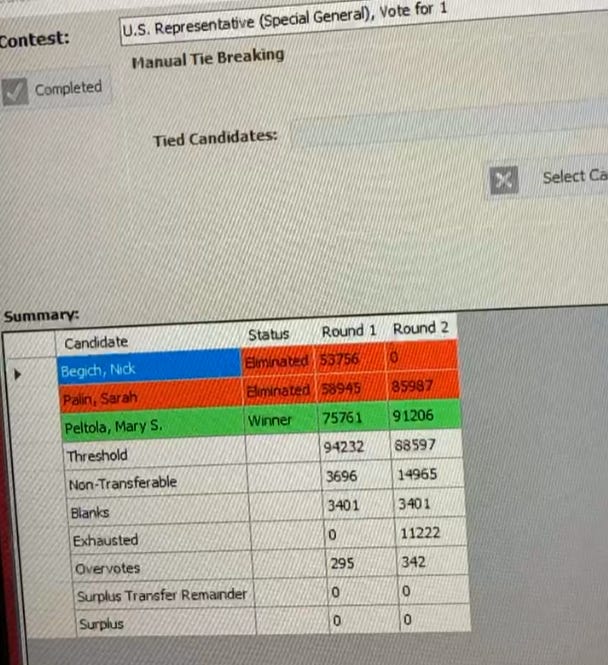 After some notes that the count wasn't final because the election had yet to be certified, Division of Elections Director Gail Fenumiai wrapped up by saying, "So, that ends RCV for the United States special election for representative."
How'd the ranking go?
The whole race was going to come down to how voters—specifically Begich voters—navigated ranked choice voting. As I've been saying from the get-go, we shouldn't expect RCV rankings to align neatly behind similar candidates and if there was any candidate where GOP voters wouldn't neatly align, it's probably Sarah Palin.
That turned out to be true.
Breaking down the numbers, only 50.3% of Begich voters ultimately aligned behind Palin, giving the Trump-endorsed celebrity an additional 27,042 votes to bring her vote total to 85,987.
That was far from enough to catch Peltola, who saw her vote total increase by 15,445 votes once Begich was eliminated to bring her vote total to 91,206.
Another 20.9% of Begich voters didn't rank either, meaning nearly half of all Begich voters didn't vote for the remaining Republican.
In the end, Peltola would finish with 51.5% of the vote to Palin's 48.5%.
On paper, the election was poised to be the rare RCV comeback—where a candidate who didn't finish in first place in the first round of vote tabulation ended up winning. Rob Richie, the President and CEO of FairVote, said as much during a call earlier this week, noting that just 4% of the more than 500 elections that have been held under RCV have produced such a result because RCV serves as a way for factions of the same general group to unite. He said, though, for that to work the candidates have to incorporate that unity into their messaging by encouraging their voters to rank other candidates second and by asking voters for their second-place votes.
"It does mean the candidates have to make use of the opportunity," he said. "It's fascinating to see how it plays out here. The candidate who is seemingly best positioned to be helped by ranked choice voting, Sarah Palin, also said she didn't rank."
Palin not only said she wasn't ranking other candidates but as a close Trump ally she's also been a purveyor of the Big Lie about the 2020 election and has cast doubts on ranked choice voting in Alaska, the very system she was relying on to win.
It was Peltola, whose unwavering niceness has been a hallmark on the campaign trail, that actively reached out to Begich and Palin supporters, noting that they likely shared more in common than they would think, particularly on issues like resource development.
"I take a lot of pride in getting along with people and those of us on the campaign trail know exactly how hard on families and your support group," Peltola said after the results, according to reporting by the Anchorage Daily News. "And so I think I feel a lot of camaraderie and fraternity with the people that I'm in the race with."
What's next
Of course, this is just the special election. The upcoming race for the full term will feature Peltola, Palin and Begich as well as fifth-place primary finisher Libertarian Chris Bye (after fourth-place finisher Tara Sweeney withdrew from the campaign).
It will be on Palin, Begich and the Alaska Republican Party to rethink their strategy for the race moving forward while Peltola will have four months on the job and incumbency on her side heading into the next contest. The Alaska Republican Party had ran a "rank the red" campaign in the run up to the election, urging GOP voters to rank only Republican candidates with apparent limited success.
According to Anchorage Daily News political reporter Sean Maguire, it doesn't sound like a kumbaya moment for the Republican candidates is anywhere near materializing. At Palin's campaign headquarters, the results were met with anger and a call for Begich—who's been running for the seat prior to U.S. Rep. Don Young's death and was endorsed by the Alaska Republican Party and many Republicans holding state office—to drop out.