Adapted from The Midnight Sun Memo, a newsletter project from your humble Midnight Sun editor. For everyone who's been asking about keeping up via email or how to support the work we've been doing here, we finally have an answer in this nifty newsletter… which comes with two free editions per week and extras for subscribers (though, as you might have learned from following this blog, the schedule can't be entirely guaranteed). Sign up now!
The Alaska Permanent Fund Corporation's Board of Trustees might be bad bosses, but they didn't do anything that's obviously illegal when they abruptly fired APFC CEO Angela Rodell last year nor is there clear evidence that Gov. Mike Dunleavy directly called the shots.
That's the conclusion of the independent investigation the Legislative Budget and Audit Committee released during a lengthy hearing on Wednesday. It didn't uncover a smoking gun when it comes to the governor's involvement in the firing, but it does paint a troubling picture of unclear communications, shifting expectations and interpersonal grievances that largely revolved around perceived slights against Gov. Dunleavy in the lead up to the firing of the well-liked executive.
"We have determined that the trustees did not follow the APFC charter in all material respects with regard to their evaluation of the executive director," investigator Christopher Slottee, an attorney with Schwabe, Williamson & Wyatt, told the committee. "The trustees did not use an evaluation instrument or process to assess the executive director's performance that was consistent with the executive director evaluation policy."
The investigators highlighted a performance evaluation orchestrated by now-former Department of Revenue Commissioner/Trustee Lucinda Mahoney that was given to all Alaska Permanent Fund Corporation employees regardless of whether they had the relevant experience to evaluate Rodell's performance and was conducted without input of the contractors who originally formulated the evaluation. The investigators noted that the report's summary produced by Mahoney overemphasized negative comments despite the overall review showing improved performance.
Investigators said the performance evaluation and subsequent decision to fire Rodell didn't follow the processes in the Alaska Permanent Fund Corporation's charter.
"The process is a good process, and it should be followed," Slottee said. "The evaluation in 2021 did not result in a complete and fair evaluation of Ms. Rodell's performance."
But the investigators were careful to note that in their depositions with the Board of Trustees, the apparently biased performance evaluation didn't appear to weigh very heavily in the reasoning for firing. They said the five members who supported her firing all cited a loss of confidence in Rodell's ability to perform, drawing from personal interactions. They said while it was subjective—largely driven from events that the Board of Trustees as well as members in the Dunleavy administration felt were overly political and critical of Gov. Dunleavy—it was likely within the legal authority of the board.
"While the trustees chose not to explain the reasons for terminating Ms. Rodell to her when they called her into the executive session or to the public, lack of confidence in the leadership of a chief executive officer is a sufficient reason to support the termination of such a high-level executive," Slottee said. "The trustees' subjective assessment of their level of confidence in executive director leadership is a legally sufficient reason."
Slottee said much of the Board of Trustee's handling of the situation likely won't live up to good governance standards or good corporate stewardship, but it doesn't mean it's illegal.
Angela Rodell and the Terrible, No Good, Very Bad Comments About Dunleavy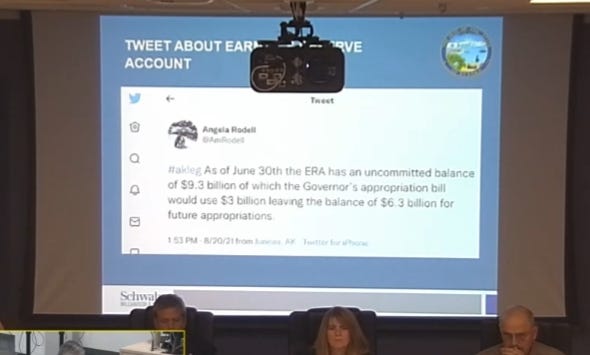 The aggravating events include Rodell's decision to publish a news release that warned a potential government shutdown in 2021—which Dunleavy and his legislative allies were pushing toward in hopes to leverage support for a large PFD—might harm the fund's health if staff were furloughed. It included this line:
It is important to note that this plan does not provide for the active, forward-looking investment of the Fund that the Corporation engages in daily. Based on the advice received from the Department of Law, it is anticipated that during a shutdown, no new investments will be pursued. Therefore, there can be no assurance that a government shutdown will not have a material impact on the earnings and performance of the Fund.
Several Board of Trustee members told the investigators that they were incensed by what appeared to be an overtly political move against Dunleavy with Trustee Corri Feige, the Department of Natural Resources Commissioner, telling them that the release was "wildly inappropriate" and "absolutely out of bounds."
Another instance was a tweet providing the status of the Alaska Permanent Fund's size when a Dunleavy budget official couldn't come up with them during a legislative hearing. The tweet stated:
"As of June 30th the ERA has an uncommitted balance of $9.3 billion of which the Governor's appropriation bill would use $3 billion leaving the balance of $6.3 billion for future appropriations."
It apparently caught the attention of officials in the governor's office who later contacted Mahoney with concerns that it was overly critical of the governor. Craig Richards, who served as the chair of the Board of Trustees at the time and is a close ally of Dunleavy's, said he felt it was a "backhanded critique" of Dunleavy and wondered whether it was accurate (it was).
While Mahoney told investigators that the tweet was accurate and she had no problem with it, she relayed the governor's concerns to Rodell in what she characterized as a friendly conversation. Rodell saw it very differently according to her discussion with investigators, likening it to a warning to "watch her back" and offered to resign.
It appears that the final nail in the coffin came during a September 2021 Board of Trustees meeting where Mahoney suggested cutting or reducing employee retention and performance bonuses to reflect the smaller dividend payout. Rodell bristled at the suggestion, questioning whether the board wanted to remain politically independent as it has traditionally been or whether it should consider giving up its autonomy and be folded into the Department of Revenue.
"Should we continue to be building this agency, or is it time to put our hands up and go, 'Maybe it's time to shrink this. Maybe it's time to move it over, back to Department of Revenue. Maybe it's–' And how do we think about that? So it's bigger, it's more philosophical. It's just trying to understand where we want to go with this organization," Rodell said at the time.
Several trustees accused Rodell of being aggressive and confrontational during meetings and during personal encounters. Investigators said they found little evidence beyond the above exchange that supported those claims, but again said that lack of confidence is a deeply subjective matter that gave the board wide latitude in its firing.
Between a rock and a hard place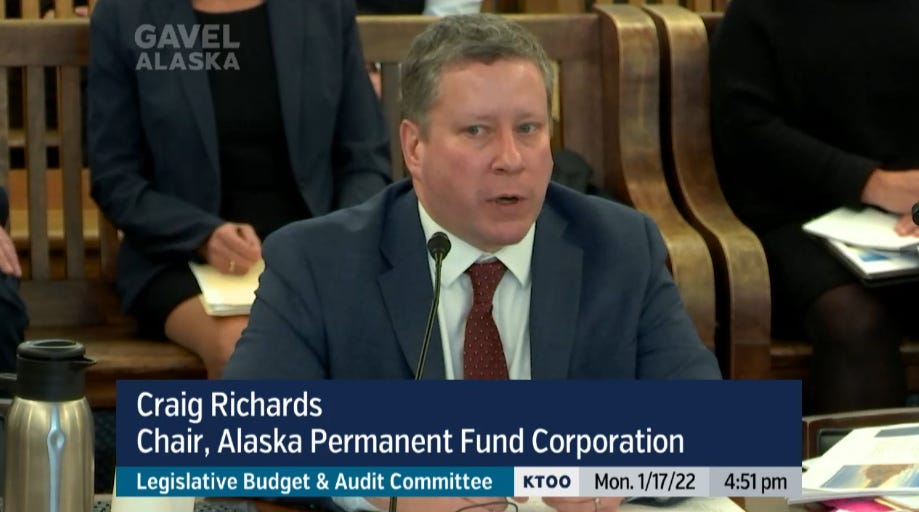 While the investigation didn't find anything overtly illegal or underhanded about the firing, it didn't stop them from being critical of the Board of Trustees actions.
Throughout the process, Rodell leaned on prior resolutions approved by the Board of Trustees that called for disciplined and predictable spending to ensure the fund's overall health in her advocacy for the fund. With Gov. Dunleavy and his allies hoping to overspend the fund in order to pay out larger dividends, the investigators said it was impossible for Rodell to avoid political conflict as long as those resolutions stayed in place. Simply put, they set her up to fail.
"In light of the fund's critical importance to sustain the government services and payment of dividends to Alaskans, the trustees' adoption of resolutions requiring the executive director to advocate for certain policy positions meant the executive director could not be drawn into political discussions and debate around the funds available for appropriations to fund the budget and the amount of the dividend," Slottee said. "When the executive director attempted to navigate these political waters, the trustees ultimately held it against her."
He said some of her actions were seen by the board as overly political while at other times, they said she was not political enough. Trustee Richards and others suggested that Rodell was attempting to manipulate the board—pointing to Rodell's discomfort with having state employee Mahoney serve as the vice-chair or her reluctance to support a second office in Anchorage (suggesting a second office in an investment hub would make more sense)—to achieve her own personal agenda.
Exactly what that personal agenda was isn't entirely clear, though, as it seems she was primarily interested in the fund's stability, which is ostensibly the board's goals given the resolutions. The investigators did say that it appeared that both Rodell and the Board of Trustees had very different ideas of what her job was.
Rodell was primarily focused on growing the Alaska Permanent Fund and for advocating—based on the board-approved resolutions—for a stable and steady handling of the fund's assets. Trustees, in discussions with the investigators, dismissed Rodell's role in the fund's record performance in recent years by arguing that it was simply a result of a strong market and the individual work of the investment team.
"There was a big disconnect between what the executive director thought the board expected of her and what the board, in fact, was expecting of her," investigator Howard Tricky told the committee. "I think that's a result of deviating from following a standard evaluation process where there's consistent feedback."
Slottee said the shifting expectations that were never formalized through official action or resolution is an example of bad corporate governance.
No smoking gun, but plenty of misgivings
The investigators found no direct or circumstantial evidence that Gov. Dunleavy ordered the trustees to fire Rodell or that he had any advance knowledge that Rodell would be fired.
That said, though, it was certainly on his radar.
Investigators said they found that Trustee Richards had previously been critical of Rodell in conversations with Gov. Dunleavy. According to the sworn testimony of Richards, Dunleavy replied that it was ultimately a decision to be made by the Board of Trustees and officials within his office advised Richards that if they did go through with it, to make it sure it was legal.
Sen. von Imhof later wondered if the entire consternation over the press release and tweet was concocted in order to fire Rodell.
"It does seem that there's slightly a bit of excessive ire placed on pretty benign documents and a tweet," she said. "I just am curious whether the board was trying to find a place to hang their hat, and this is all they can come up with."
Rep. Chris Tuck, D-Anchorage, also said it seemed like the board set out to make it impossible for Rodell to succeed.
"You're putting a person between a rock and a hard place," he said. "It's almost like setting bear traps out for somebody. You can't help but step in them."
Even Eagle River Sen. Lora Reinbold said she was troubled by the Board of Trustees' reliance on subjective reasons for firing the head of the state's investment fund.
"What it looks to me just from first blush is that there was no true objectivity regarding the removal of her and it ended up leaning to more subjectivity," she said. "That's of concern to me."
Though Sen. von Imhof has already announced she doesn't plan to run for office again, she said it's clear that the Board of Trustees needs some serious overhauls especially where it comes to the influence that the governor's employees can have on the board's actions. To that end, she suggested the following changes:
Expand to seven seats, with five-year terms to ensure a single governor's term cannot monopolize the board
All future seats be confirmed by the Legislature
Have two out-of-state members to reflect the fund's international status
Governor only gets one direct pick from his administration
The board's vice-chair cannot be an employee of the governor
Why it matters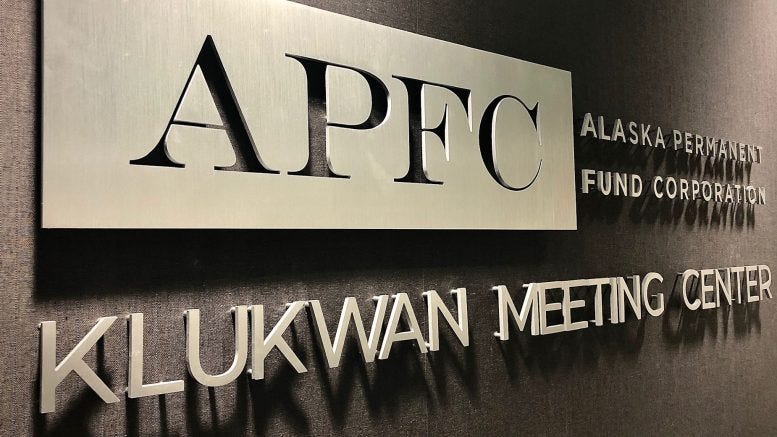 The proposed changes would represent a significant change in direction for the Alaska Permanent Fund Corporation's Board of Trustees. In total, they are a clear attempt to curb the governor's direct influence over the board, particularly by individuals who are on the governor's payroll and, at least in the case of Gov. Dunleavy, may have conflicting interests and goals.
Previously, none of this has been a problem because the state government and Alaska Permanent Fund shared the same goal of raking in massive piles of cash. Dunleavy's policy position of overspending the fund on an ad hoc basis conflicted, for the first time, with the guiding principles already approved by the board.
What's only hinted at during this meeting is that at any time, the Board of Trustees could have given Rodell new marching orders by passing a resolution that said, in effect, that it's actually not that bad of an idea to overspend the Alaska Permanent Fund as long as it was going to fulfill the governor's campaign promises of a big PFD. Unsurprisingly, the Board of Trustees didn't want that position to be put down in writing because, well, it runs contrary to the fund's history.
So, instead of changing the rules they didn't like, they simply found a way to fire the person enforcing the rules.