Adapted from The Midnight Sun Memo, a newsletter project from your humble Midnight Sun editor. For everyone who's been asking about keeping up via email or how to support the work we've been doing here, we finally have an answer in this nifty newsletter. Sign up now!
Correction: This post originally referred to the incorrect council. It is the Alaska Legislature's Joint Legislative Council, not the one that vets judges.
Legislators voted down a proposal to intervene in a lawsuit challenging Wasilla Rep. David Eastman's eligibility to hold office with several suggesting the extreme-right Republican take some personal responsibility for his membership in the Oath Keepers.
Last week, an Alaska Superior Court Judge found in a preliminary ruling that Eastman's membership in the Oath Keepers—a militia group whose leadership has been charged with seditious conspiracy for their involvement with the Jan. 6 insurrection—likely would prohibit him from holding office under the Alaska Constitution's disloyalty clause. On Friday, members of the Alaska Legislature's Joint Legislative Council considered a motion that would insert the Legislature in the litigation and voted it down by a wide, bipartisan margin.
The motion was brought by Palmer Republican Sen. Shelley Hughes following a closed-door meeting where legislators could candidly talk with attorneys about potential litigation. She argued the lawsuit would infringe on legislators' associational rights, suggesting that other groups could fall under the umbrella of the Alaska Constitution's disloyalty clause that bars anyone or anyone belonging to a group that "advocates overthrow by force or violence of the United States or of the State" from holding office.
Wasilla Republican Sen. Mike Shower also supported the motion, suggesting that any group could be considered an insurrectionist group if some of its members "go rogue" and suggested that chambers of commerce, environmental groups or Black Lives Matter may also fall under the lens in the future.
"Where does this stop?" Shower wondered, suggesting the first-of-its-kind lawsuit could also extend to churches because "they're certainly under attack in many ways."
Eastman also spoke directly to legislators, asking them for the assistance in the lawsuit. He similarly suggested that other groups could be called seditious and wondered whether the Legislature would get involved in liberal-leaning groups accused of sedition. He also noted that the lawsuit was solely focused on his membership in the Oath Keepers and doesn't accuse him of "any kind of unlawful activity or anything I've done has hurt any other Alaskan."
None of it was convincing to the other legislators, who essentially told Eastman—as well as any other legislator participating in potentially seditious groups of any stripe—to kick rocks.
"The right to associate at some point comes with some level of personal responsibility. Had I been a member of Oath Keepers and not just any member, but the founder become in anti-constitutional insurrection actions, if that's how that turns out, I would no longer be a member of that organization," said Senate President Peter Micciche, R-Soldotna.
Eastman has not disavowed the Oath Keepers or renounced his lifetime membership.
"At this time," Micciche said, "I can't support intervention."
Rep. Chris Tuck, D-Anchorage, addressed the concerns raised by Eastman, Hughes and Shower that leaving Eastman out in the cold because he belongs to a group whose leadership is facing charges of seditious conspiracy would be chilling and scare people away from serving in office. He noted that chilling insurrectionists is precisely in the interest of state government.
"This isn't about our duties as a legislator as much as it has to reflect on what we do outside of the Legislature. We talk about how these lawsuits could happen to anyone, but this is really only about those who are part of organizations that may have participated in insurrectionist activities. It's that and that only," Tuck said. "It's not like this is open to any organization you're involved in. In this particular case, it's very specific. The chilling effect really should be that we don't have insurrections in the future. That's where the chilling effect should be."
Rep. Matt Claman, D-Anchorage, also added that the motion brought by Hughes wasn't even clear about how the Legislature would intervene, whose side it would be on and precisely what legislative or constitutional interests were at stake.
"For us to make a decision to intervene in a lawsuit in which we don't even have a recommendation of what strategy we would take seems to me an excessive expenditure of funds for the Legislature on which we really are not set up to do that," Claman said. "The best we can do is let Rep. Eastman, with the counsel he's retained, do what he thinks appropriate for the claims brought against him. … I don't see any basis why the Legislature should go in and start intervening in a lawsuit in which we don't even have before us a question of what is the position the Legislature should take."
The committee voted 9N-1Y to support the motion to intervene on the lawsuit. Only Sen. Hughes voted in favor of the motion while Sen. Shower—who was present for later votes—did not participate in the vote during the roll call.
Updated social media policy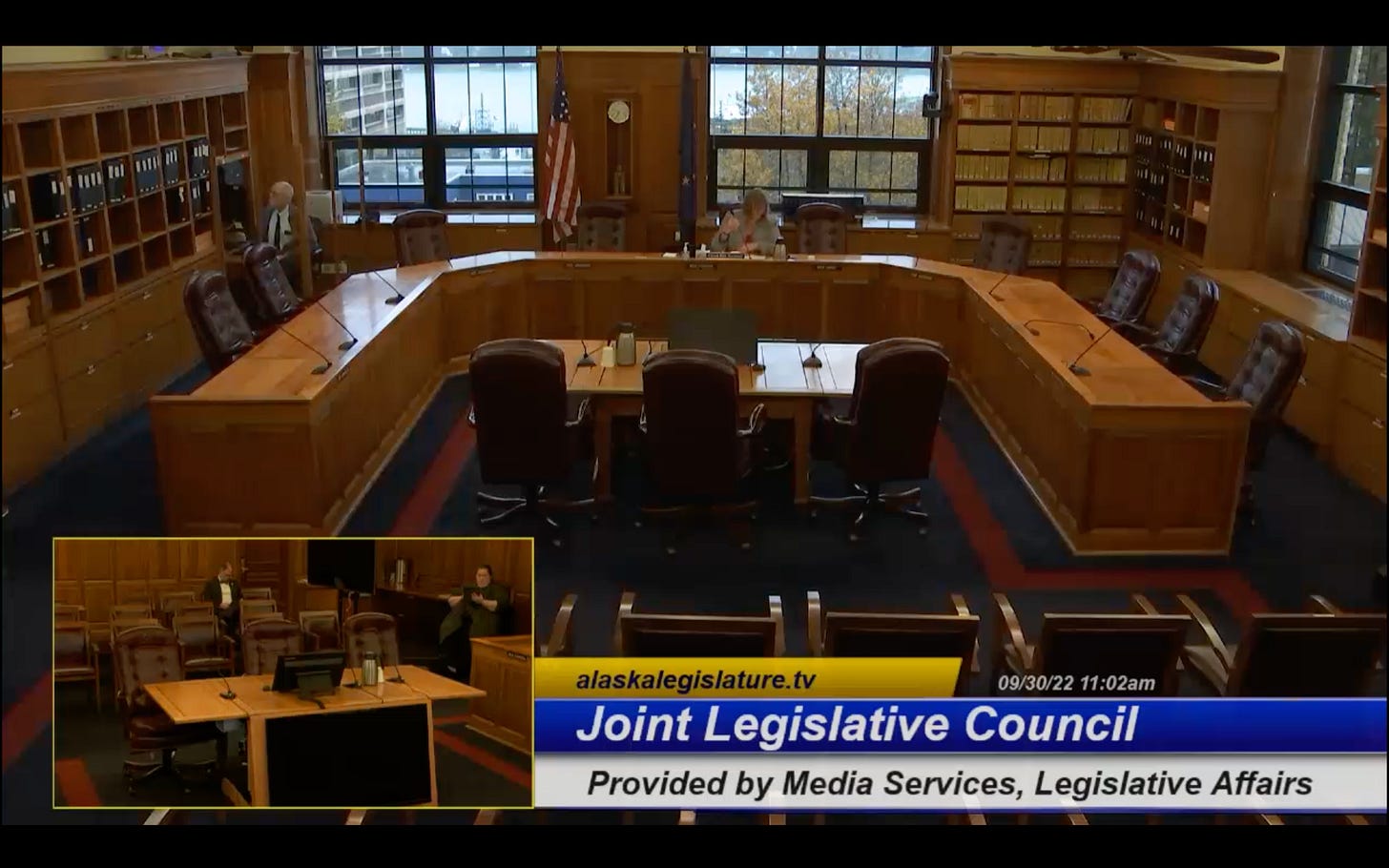 Along the same lines of leaving legislators to their own devices when facing litigation, the Joint Legislative Council also adopted an updated social media policy in light of a wave of lawsuits challenging legislators for blocking people on social media.
The policy, which was adopted on an 8Y-3N vote, says it's the Legislature's policy to not help any legislator with litigation stemming from how they behave on social media or how they moderate official social media pages.
The policy also includes guidelines for avoiding litigation, suggesting legislators essentially use social media pages like bulletin boards to post updates without an option to comment. If legislators choose to get involved in back-and-forth communication on social media, though, they would be responsible for any potential litigation brought against them.
This is where Senate President Micciche broke from the majority, arguing that most disputes over social media could be resolved with corrective action and apologies instead of entering the courts. That was the case for him when he challenged in 2021 for blocking a constituent, but he worried that there may be cases where legislators do everything they can to make it right but people continue to press lawsuits.
Sen. Click Bishop, R-Fairbanks, defended the policy, noting that it's not set in stone and that it could be revisited by future legislators or on a case-by-case basis should a situation arise.
"I'm not being flippant here to my colleagues but it's not the Ten Commandments. It's not written in stone," he said. "It can be reviewed by the 33rd Legislature."