Adapted from The Midnight Sun Memo, a newsletter project from your humble Midnight Sun editor. For everyone who's been asking about keeping up via email or how to support the work we've been doing here, we finally have an answer in this nifty newsletter. Sign up now!
Turns out live-tweeting full days of trial hearings doesn't leave a lot of time in the day to catch up on everything and keep up with written summaries. So, as we close in on the conclusion of the trial against Wasilla Republican Rep. David Eastman, which is seeking to bar him from office under the Alaska Constitution's disloyalty clause, let's take a look at the main revelations and takeaways from the trial so far. It's been a saga filled with internet issues, objections, conspiracy theories, conspiracy facts and more conspiracy theories.
Where we are so far: Rep. David Eastman, one of the Alaska Legislature's most conservative members who's not been particularly keen about playing nice with his fellow Republicans, is facing this challenge because he is a member of the Oath Keepers. The militant group's leadership has been charged and convicted of a litany of crimes around Jan. 6, including seditious conspiracy. Now, his ability to continue serving in office has come under challenge with the Alaska Constitution's disloyalty clause, a remnant of the Second Red Scare. The entire thing revolves around the straightforward questions of—"Is Eastman an Oath Keeper?" and "Have the Oath Keepers either advocated for or taken part in efforts to violently overthrow the U.S. Government?"—but very little of it has been straightforward with testimony that has ranged from Hunter Biden's laptop to accusations that Mitch McConnell is a secret communist.
Why it matters: As noted above, Eastman hasn't exactly played nice with other Republicans. His continued presence in the Legislature makes things difficult for Republicans to piece together a 21-member majority because it'd effectively give him—and every other fringe Republican—veto power over anything the majority wanted to do.
Twitter threads:
Day one: Opening arguments of the plaintiffs and first expert witness
Day two: Continued testimony, including from Rep. Eastman
Day three: After additional questioning of Eastman, plaintiffs rest their case and Joe Miller makes a motion to end the trial. Gets started with own expert witness.
Day four: Miller's expert witness testifies Mitch McConnell is an agent of China.
Day five (today): Eastman's friend testifies he went to Jan. 6 because he was worried about David's safety.
Rep. Eastman confirms membership in Oath Keepers, appreciation for oaths and bylaws
Rep. David Eastman took the stand on Wednesday to confirm that, yes, he joined the Oath Keepers, paid more than $1,000 for a lifetime membership and a t-shirt, had limited communication with the Oath Keepers, forwarded an Oath Keepers email about Jan. 6 to a friend and never got a response to his emailed questions if convicted founder Stewart Rhodes had to be kicked out according to the group's bylaws.
But as has been seen in later testimony from Oath Keepers, Eastman left plenty of wiggle room in his testimony about his membership in the group. Frequently, it seemed like there was some intentional confusion around the Oath Keepers the militia group and oath keepers, every single person who takes an oath to uphold the U.S. Constitution including all legislators, elected officials and judges.
Eastman told the court that he simply appreciated a good oath and set of bylaws, and when asked whether he's a member of the Oath Keepers he suggested that the group today isn't the same as the group he first got involved with more than a decade ago.
But when asked whether he would condemn the Oath Keepers or individuals who were charged with Jan. 6, Eastman claimed that he wasn't in the business of condemning groups or individuals. When provided with evidence that he has specifically condemned Antifa—a group that Eastman and other far-right conspiracy theorists suggest is the real force behind Jan. 6 (because they wanted Republicans to look bad)—for its supposed role in Jan. 6, Eastman pointed out that he said he "generally" isn't in the business of condemning groups or individuals.
It's a complicated, straightforward case
All the mealy-mouthedness aside, that, of course, proves the first part of the two-part test laid out by Superior Court Judge Jack McKenna on determining whether Rep. Eastman's membership in the Oath Keepers disqualifies him from office. That two-part test is, essentially, as follows:
Is Rep. David Eastman an Oath Keeper?
Is the Oath Keepers an organization that has advocated concrete, imminent action to overthrow the United States by force or have they actually engaged in such conduct?
The second part of that test is where all the meat of the trial rests and has really been the focus of the trial with the plaintiffs' two main expert witnesses testifying at length about how the Oath Keepers are very much an anti-government group and how any effort to delay or interrupt the peaceful transfer of power to a fairly elected president is tantamount to an attempt to overthrow the government.
Meanwhile, Eastman's attorney Joe Miller has mounted just about every thinkable defense and excuse for the organization to prove otherwise. That includes noting that insurrection and the violent overthrow of government isn't explicitly mentioned in the group's bylaws or direct email blasts to its members (but just don't listen to founder Stewart Rhodes' statements at rallies or on Alex Jones' Info Wars). Or that they were justified because they truly thought a secretive cabal of deep state actors, foreign influencers and Antifa goobers either had or were going to steal the election from Trump. Or that they were not calling for the end of democracy, but just a little pause so the still-unproven allegations of widespread voter fraud could be looked into.
If the trial ended Thursday, it would've been bad for Eastman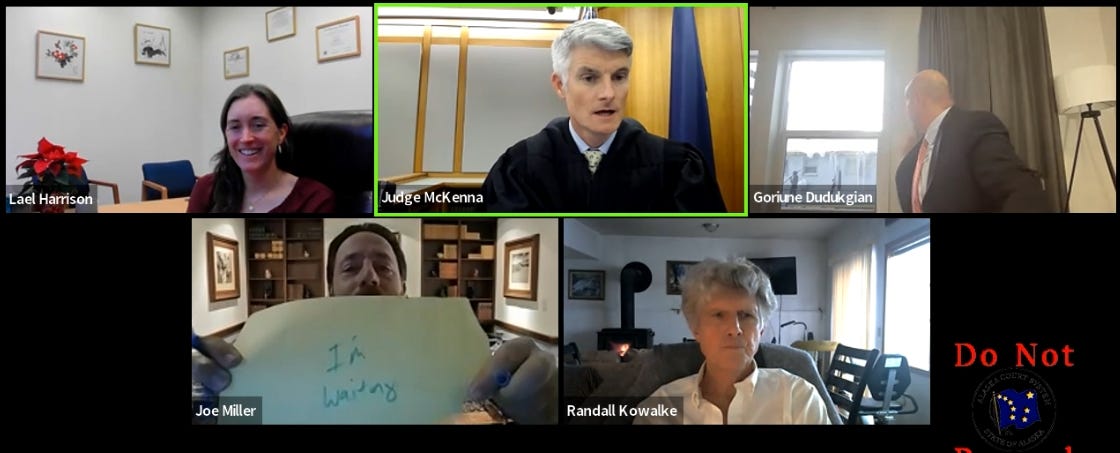 Miller has certainly made for an… interesting and illuminating attorney, who seems at the very least to be sympathetic to the web of conspiracies—if not a believer himself. That's led to a litany of objections and motions throughout the trial that culminated in a motion on Thursday that would have brought an abrupt end to the entire trial.
Arguing that the plaintiffs had not even come close to proving their case, Miller made a motion to dismiss the trial once they rested their case and before he started his.
While it all comes with the critical caveat that the motion requires the judge to look at the plaintiffs' evidence in the most favorable light, Superior Court Judge Jack McKenna denied the motion, finding a jury would likely find that the plaintiffs had proved the two key elements needed to disqualify Eastman.
"The second element is really where the dispute is. The plaintiff must show the Oath Keepers are an organization that advocates concrete, imminent actions to overthrow the United States by force or that they've actually engaged in such conduct because that would be a form of advocacy," Judge McKenna said, later adding, "There's a clear inference that can be made under the standard of this motion that it was directed at stopping congressional action to certify a presidential election and that can be fairly viewed as an attempt to stop the peaceful transfer of power and bring about the overthrow of our democratic system and our government. … So, viewing the evidence in a light most favorable to the non-moving party, there is sufficient evidence for a fair-minded juror to find that element was met."
A defense dense with conspiracy theories

Joe Miller got underway with his case on Thursday afternoon after Judge McKenna denied his motion to dismiss the entire case. The main expert witness for Eastman is a guy named John Guandolo, who is probably most widely known for his anti-Muslim rantings and police trainings that he's been doing for more than a decade since leaving the FBI (where he apparently had an affair with an undercover source).
Guandolo was… interesting.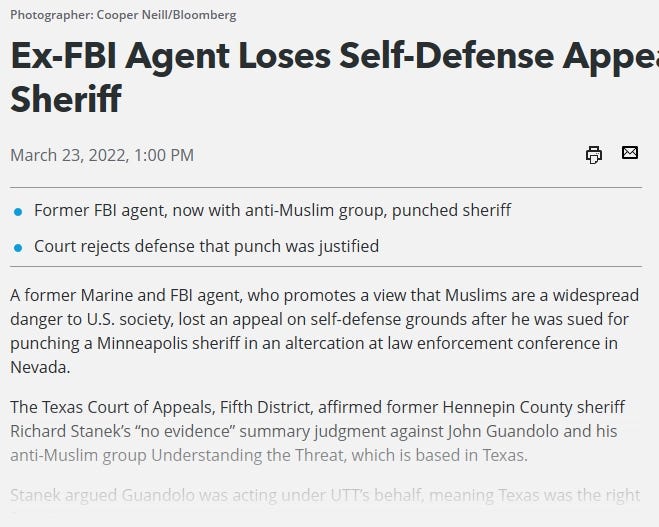 He talked at length about how the real threat to America is Muslim groups, Chinese Communists and other various communist groups. Mitch McConnell is a secret communist as is Beto O'Rourke and James Comey. Deb Haaland is a "hardcore communist." Articles critical of the Jan. 6 insurrectionists in the New York Times, he argued, is just a part of communist-driven information warfare, which he said he's been trained to identify. He's also certain that there were Antifa operatives throughout the Jan. 6 insurrection because he's been trained to identify them by their… all-black clothes and backpacks.
In addition to all that, Guandolo was positive that the Oath Keepers were not an anti-government group and that the plaintiffs' experts—who were brought in as experts on domestic violent extremism (a term that Guandolo had a big problem with because it apparently was a term coined by Muslims to throw people off their trail)—were wrong for overlooking the humanitarian work of the Oath Keepers and the real threats against the U.S.—Muslims and Chinese communists.
While I'm not entirely sure how you counter any of that short of bringing in Mitch McConnell and asking to see his communist party membership, the plaintiffs confronted Guandolo with his own interview given shortly after Jan. 6.
"This is a banana republic, and the people either will or will not take back the republic," he continued. "I don't see any other way out than a real armed counter-revolution to this hostile revolution that's taking place, primarily driven by the communists. … I'm getting emails and texts from conservatives telling me how appalled they are at what happened at the Capitol yesterday. Screw you! Screw you if you say that because what happened at Capitol yesterday was incredibly restrained. From my perspective—I was there, I watched it, I was in and amongst it—it is amazing to me that patriots haven't strung up these traitors already with the amount of evidence on the table of what they're doing."
Asked whether he was advocating for violence against the U.S. Government and elected officials, Guandolo said he just talks big.
"When I make comments like 'string 'em up.' I'm a Marine, I use colorful language. … I'm obviously not saying you should literally do that," Guandolo said. "Obviously."
Would a racist antisemite do this?
Rep. David Eastman and his attorney, the far-right Joe Miller, are saved their opening arguments for later in the trial and their cross examination of Jon Lewis, the plaintiff's expert in domestic violence and terrorism and research fellow at George Washington University, promised it'd be… interesting.
Miller seemed to focus much of his attention trying to paint the Oath Keepers and Stewart Rhodes as distinctly separate entities that have little to no bearing on one another. He spent much of the time peppering Lewis with questions about the number of Oath Keepers that were present at the Jan. 6 insurrection—a figure that's impossible to pinpoint because the federal government hasn't named and charged everyone believed to have been there—and then went on to suggest that Rhodes didn't have much sway because he could only get about 1/500th of his membership to attend the event.
He also sparred with Lewis over his opinion—shared during the depositions—that Eastman was both a white supremacist and an antisemite. Eastman cast several head-turning votes in the Legislature against the recognition of Alaska Natives and Black service members, but has never explicitly said he is racist.
Miller seemed to think it was a strong line of questioning that undermined Lewis' credibility, pointing to an infamous blog post authored by Eastman that was accompanied by a picture of Eastman posing in front of a Hitler quote at the Holocaust Museum. Miller said that Eastman was really just warning about the horrors of the Holocaust and covid-19.
Lewis replied that many, many groups see likening the systemic eradication of millions of people to covid-19 mandates as antisemitic but that the optics of the picture alone were clear.
"Going to a Holocaust museum and choosing of all images to take a photo next to a quote by the architect of the Holocaust would go further to me, as an expert, that there are potentially some antisemitic beliefs floating around in there," Lewis replied.
He also noted that Eastman has shared posts by several virulent and well-known antisemites, and that his opinion wasn't solely based on that picture. Eastman has also posted a link to a Holocaust denial website.
As for the actions of the Oath Keepers on Jan. 6, Miller also sought to downplay the seriousness of the event by suggesting that people were acting with good intentions to halt the certification of the election in order to discover still-undiscovered widespread voter fraud. Miller even went as far as suggesting violence or intent to commit violence against Nancy Pelosi wasn't as bad as it sounded.
"Violence, in and of itself, against an individual as terrible as it might be is not an attempt to overthrow government, is it?"
Lewis replied that it is when the person is the Speaker of the House.
At one point nearing the end of the day, Miller sparred with Lewis over Lewis' testimony about true patriotism versus the "twisted patriotism" that Lewis said defined groups like the Oath Keepers. While Miller seemed to suggest that people who sincerely believed that there was widespread voter fraud and antifa super soldiers were acting patriotically, Lewis said it was anything but.
"I do not believe Stewart Rhodes is a patriot. I do not believe Stewart Rhodes follows the constitution," Lewis said, later adding, "There's no gray area when it comes to the true goals and motivations of the Oath Keepers. It's certainly not a non-partisan organization to defend the constitution. It uses the oath as a cover, as propaganda, as nothing else."