Nearly 400 vacant teaching positions on the first day of school, a card of school district superintendents with nearly every face crossed off as gone from the job and pictures of a school building with bulging siding, mold-covered walls and a foundation lifted with a pile of spare wood pieces. Those were just some of the images and anecdotes from Wednesday's presentation of education advocates to the Senate Education Committee on the financial concerns facing Alaska's school system.
As covid money expires and inflation catches up on a decade of meager increases to the state's education funding formula, schools across Alaska are on the ledge with many facing massive budget gaps that will force school closures, elimination of programs and ballooning class sizes. All on top of existing structural problems with teacher recruitment and retention that's made a revolving door for teachers.
As session gets underway, schools and advocates are seeking for what looks like a massive increase for education funding on paper but would only keep up with the roughly 24% increase in inflation since 2017, the last time there was a big-ish increase to the base student allocation (BSA) formula.
"I want to be clear, we are not asking for whipped cream or ice cream on top of the pie, we're just asking for the crust," Dr. Lisa Parady, the executive director of the Alaska Council of School Administrators, told the committee.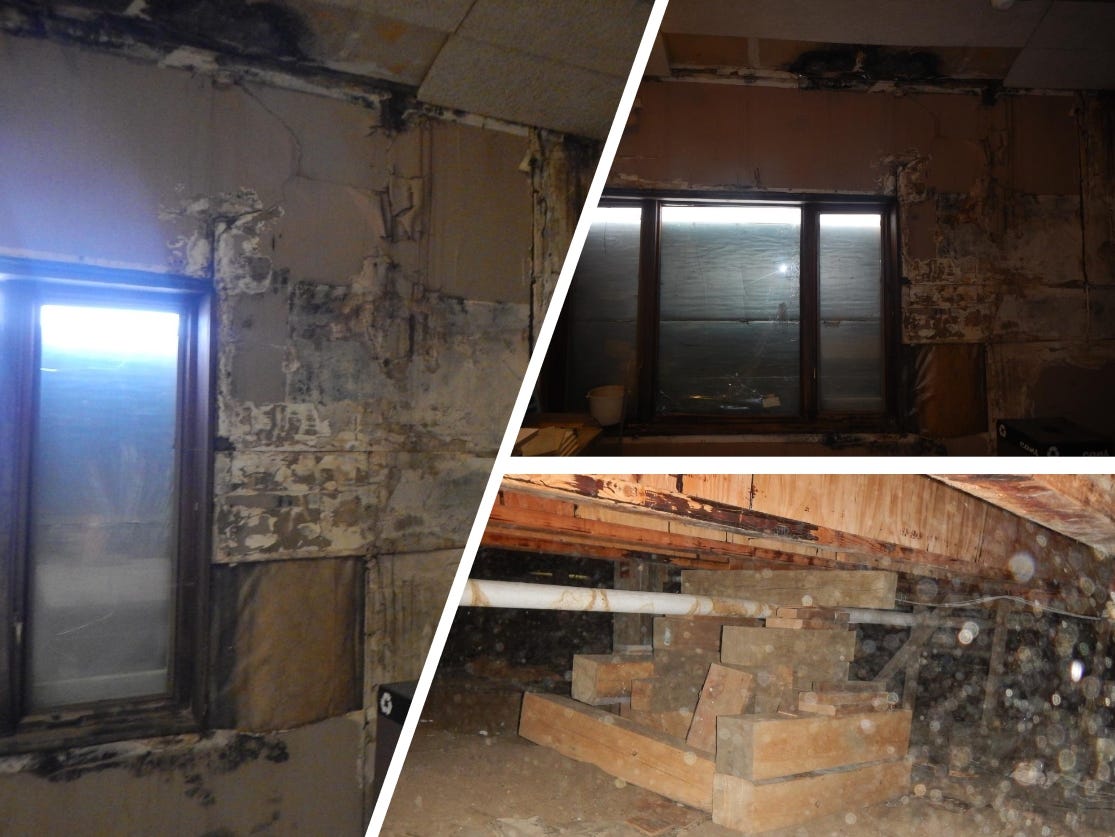 Pictures of an unnamed school that was part of the presentation by the Coalition for Education Equity. Executive Director Sarah Sledge told the committee the school was built in 1979 and hasn't been renovated since.
The Association of School Boards, a nonprofit that represents 52 of the state's 54 school districts, is asking for a $860 increase to the BSA, raising it from $5,930 to $6,820 to match the inflation-adjusted amount from 2017. Lon Garrison, the executive director of the group, told senators that they'd also like to see the funding tied to inflation so such a large gap between funding and buying power doesn't come back to haunt them. He also suggested that a long-term funding plan akin to an endowment be considered to remove K-12 funding from the annual budget fights.
Where the advocates might have once been peppered with questions by skeptical legislators about things like how Alaska already spends the most per student out of any state in the country (ignoring the additional costs of running a school in Alaska) or how its lagging test scores won't be served by additional dollars or how additional dollars will just line the pockets of administrators rather than going into the schools (when a total of 74% goes to instruction spread over several different categories), this year's Senate Finance Committee was far more receptive of the message.
That's because the committee has many new faces than last session in Anchorage Democratic Sen. Löki Tobin and Soldotna Republican Sen. Jesse Bjorkman (who's a high school history teacher) as well as long-time education supporters Sens. Jesse Kiehl, Gary Stevens and Elvi Gray-Jackson.
Increasing education funding this year is one of the Senate Majority's priorities, as well as public employee recruitment and retention. Recruitment and retention of teachers was also a major talking point at the hearing with some of the advocates calling for a returned to a defined benefit system for teachers as well as increased pay and support to stem the hemorrhaging of teachers. There was some talk about attaching strings to the funding, but Parady stressed that this funding doesn't enable the schools to do more than what they're currently doing.
Sen. Bjorkman put a fine point on the reality of the situation: That the proposed increase to education funding only maintains the status quo and that greater investment would be needed to restore much of what has already been lost.
"In 10 years we've seen cuts to education that have meant cuts to CTE programs—career and technical education—we've seen cuts to world languages, we've seen cuts to librarians, we've seen cuts to counseling, we've seen cuts to nurses, we've seen cuts to the school lunch programs, we've seen cuts to janitorial services, we've seen cuts to the ability for programs to move forward that really are the reason why many kids many kids are happy about getting up and going to school every day. So, what you're telling us that if we agree to increase the BSA by about 16% that just stops the bleeding in Alaska's schools and really stops the schools from having to cut," he said. "And if we want to get back to where we were with the workforce development training and with all the educational opportunities that were available then, we have to make significant investment over and above that amount, don't we?"
Parady responded: "Absolutely, with an exclamation point."
The committee will hear next from rural school districts on Friday.
Why it matters: While the session is a long and winding course that requires buy-in from a majority of legislators and the governor, hearings like this and the collection of new faces with a fresh perspective on the problems is a good start. It's also hard to overlook just how much of a difference in tone we're getting from the bipartisan Senate coalition as compared to the Republican majority of the past.
Follow the thread: The Senate Finance Committee hears an update from school groups and advocates on the financial situation facing districts.